Did you know there are only two main reason why people attend events?
YES! Connections and contacts are the key motivators for people attending events.
People want to put faces to everything, make new connections (or reconnect) and at the same time have an enjoyable experience.
That's why a perfect event needs to take place in a super functional space.
That is, a space that allows for sufficient movement, has an interesting seating plan and of course, ambiance.
And all you need to deliver this ideal event space is incredible event layout ideas. Because the perfect event is a sensory experiential journey. It excites your five senses with tasteful decor, lighting, entertainment, catering and seating.
Lucky for you, there are tons of awesome event layout ideas you can use to create a functional event layout.
But these ideas can't work without elements like furniture for events, tents, stages, and audio-visual equipment.
Also depending on the event type, these elements could determine your table layout plan too.
Yet even with all these considerations your biggest concern should be ABSOLUTE convenience for your guests.
So your first step before creating the event layout plan should be the venue selection. Consider factors like;
Venue size and location
Amenities for those differently abled
Total guests numbers
Suitable, comfortable event furniture and event hire equipment
Total budget
Still, nothing should inhibit the creativity to enhance your event's sensory experience.
Read on to learn more as this factual article shares with you event layout ideas to consider for flawless events.
Contents
Event layout definition
Event layout ideas: Choose the best for your event
How to collect data for your event layout plan
Data analysis
How to hire event furniture and other event elements
10 best event layout ideas to consider
Event layout definition
An event layout is an overview of an event's floor plan. The floor plan shows the physical event flow. And this is in essence, how every element like the stage, tables, chairs, and navigation come together in organization and arrangement.
For a chance at success, every event must have this blueprint. It's pretty easy to know an event with a bad event layout plan or none at all. Navigation is terrible. Guests' sight lines are inhibited, and worst of all, they feel claustrophobic.
Event layout ideas: Choose the best for your event
Say you're planning a birthday party for 50 guests.
You'll first create a vision board to capture elements required for your theme or style preference.
The vision board will then guide you on the event layout plan to use.
A functional event layout plan relies on accurate data.
In God, we trust; all others must bring data.
These are famous words attributed to W. Edward Deming. An American statistician and the father of modern quality management.
To him, data measurement and analysis were/are essential to superior performance in your daily activities.
This adage couldn't ring truer for event planning and design.
That assumption is futile, and the vitality of data is what's critical for a flawless event.
How to collect data for your event layout plan
Accurate data empowers your decision-making process.
It guides the planning process and helps you narrow down on the most practical event layout ideas.
What's more, you'll have a clear action plan with zero to minimal setbacks. Plus, you'll know the actions to take and contingencies to apply.
With this in mind, here are the two ways to collect accurate data for your event layout plan.
1. Digital layout maps
If your select venues have digitized their event spaces in square footage, you can request them for digital layout maps.
Then, integrate them with a select event layout app to determine the venue's suitability.
There are various event layout apps accessible on laptops, desktops, or mobile devices.
Below are five of some of the best apps you can use.
Magic Plan: This is an iOS app that lets you create floor plans real quick.
You'll use your device's camera to take a full round view of the space. When done, Magic Plan aggregates the floor plan within seconds.
Smartdraw: This is a diagram maker that offers an online floor plan creator for easy use, sharing, and collaboration.
SmartDraw's chart and diagram templates create simple, presentable visuals.
It has architectural design symbols and file-sharing applications that make it easy for anyone to use it. To know more about it, click here.
Floorplanner: This is an app you can use to create floor plans in 2D and 3D, then share the interactive versions online.
Floorplanner has an "auto-furnish" feature that lets you easily decorate rooms within your floor plan.
Floorplanner's completed floor plans look professional and polished, ready for presentation.
RoomSketcher: With this app, you can create floor plans and home designs in 3D.
Both professionals and individuals can use RoomSketcher's floor plans, 360-degree view photos, and interactive 3D walk throughs.
You can rely on its floor plans that come with accurate measurements; you can render them in 3D and panorama and even customize the finished space design with custom colors and textures.
Planningwiz: This app gives you floor plan design services and a floor planner solution.
You can use the software when designing both indoor or outdoor spaces.
PlanningWiz's design can handle special needs for event planners and designers. 
2. Manual data collection
If you can't get the digital layout maps, you'll have to take the longer manual route.
Get the right tools and master the measurements of your space. Use a measuring device, high resolution camera, and a notebook for recording and fact-checking. You can also browse this list for measurement apps to use.
Create a list of select venues. Refer to your vision board to draw a list of the must-haves.
Then conduct a comprehensive site inspection of each select venue.
But before you start, here are some of the vital points to cover in any event site inspection.
Remember, your first site inspection is to make a shortlist of two or three best venues.
a) Checklist
A checklist is an essential event planning instrument.
In your checklist, highlight all the areas you want to review.
For example, the main event space, washrooms, security, and any space your guests are bound to use.
b) Do a critical path
The critical path gives clarity on all tasks required to deliver the experience.
Plus, who's responsible for each task. To get a feel of it, walk in your guests' shoes. Imagine what they'll experience from entry to exit.
c) Vet the venue and its surroundings
Find out what will be in and around the select venue on your event date(s). Ensure there won't be any other significant events, renovations or building works.
d) Highlight your 'Must See Spaces' and review them in detail
Is the space enough for your needs?
If indoor, is it well maintained, is there anything in the space to obstruct guests sight lines
If outdoor, is it well kept, does it flood when it rains and will you need to hire tents?
For either indoor or outdoor, where are the washrooms? Will they be enough for your guests? What's the cleaning plan?
Is there a WIFI or phone network, and is there a usage policy?
Where is the nearest hospital, police station, and shopping complex?
Is there adequate security? How responsive and responsible is it?
Will guests pay parking fees? Any other costs they should know? What's the latest time your event should run? Do you need any permits and who's responsible for them? Is it you or the venue?
What are the venue's policies on cancellations, refunds, booking confirmations, etc.
Confirm every single detail before you make any commitment.
To make your selection process easy, rate each venue on a scale of 1 – 5 on the basis below.
Ambiance
Suitability for the planned event – space, security, cleanliness, aesthetics, lighting, etc
Cleanliness
Pricing
Quality of service
Staff and management attitudes
Data analysis
You could be wondering, 'what do all these details have to do with the event layout plan?'
They all impact guests behavior and interaction with your space.
That's why it's crucial that you collect as much data as possible from each space.
Every detail adds to the functionality of your event layout plan.
After the site inspections, brainstorm with your team while reviewing all data collected. The ratings per venue will help you narrow down on the best one.
With data from the selected venue, refer to your vision board and create a scaled floor plan.
Ground or room layouts for events should be pretty detailed.
They should highlight the type of elements to use, their quantities, and dimensions.
They should also highlight entries, exits, catering stations, washrooms, help, and security desks and any other useful resources.
Something else: Your event layout ideas should consider mobility needs for each guest. As much as possible, avoid hiring a venue without the following;
Wheelchair ramps and other facilities for the differently abled.
Adequate space that includes wheelchairs or emergency services navigation.
Functional lifts and elevators with proof of regular checks and maintenance.
Clear signage for entrance, exit, washrooms, etc
How to hire event furniture and other event elements
Once you have a scaled floor plan, get the required furniture and other elements that fit into it.
Make out a checklist of everything you require by referring to your vision board.
But before you contact an event furniture rental for furniture that fits, consider the;
Type of furniture – it should suit your event profile and be suitable for the space (indoor or outdoor)
Style of furniture – the furniture should fit in with your theme or style preference
Event layout plan – check to ensure the furniture will fit within the designated space of any of the event layout ideas you prefer.
With this knowledge, below are the steps to follow when hiring furniture for events.
Identify an event furniture rental with furniture for events close to your needs
Inquire whether they have enough quantities for your numbers
Confirm availability, usage and hire terms
Vet the quality and cleanliness – make a point to see the actual elements and not photos only
Confirm pricing
Then, narrow down to the event furniture rental with the perfect fit—clean, well-maintained furniture in your ideal style, quantities, availability, and budget.
In the hiring of tables and chairs, for instance, find out the tabletop dimensions plus height.
Confirm how many guests can sit per table in comfort.
Another valuable point is to consider the menu type. If you'll lay a proper feast or elaborate table decor, consider getting wider tables or increasing the spacing between seats.
You should also find out whether the tables stand at the same height when joined together.
This is especially so for handmade furniture. For chairs, select the ones matching your select tables, decor, and event profile. Most important, though, ensure they're comfortable.
Remember: Seats can influence your table layouts if they are wide. So in case, you select such chairs, you'll need to reduce the number of seating spaces per table.
There are tons of furniture designs these days. Below are some of the furniture elements you can hire from us and customize to any event seating arrangements.
1. Farmhouse tables
Use these types of banquet tables for specific themes like rustic, country, or vintage. These tables don't need dressing unless it's applied to heighten your decor effect.
2. Regular round or rectangle tables – plastic or wood
There are two types of these banquet tables; the wood ones which are handmade locally, and the plastic imported. They're pretty affordable, flexible for decor and easy to transport.
3. Lounge furniture – modern and rustic
They come in assorted sizes, designs, and seating capacities. You can visit our showroom to feel the style that suits your event or request a catalog for easy selection.
4. Bar or cocktail furniture – modern and rustic
Like lounge furniture, cocktail tables and seats for hire also come in assorted sizes, designs, and seating capacities.
10 best event layout ideas to consider
Event table layouts can make or break your event.
As you work out your event layout, pay close attention to details on measurements and size.
Below are table layouts that you can use to fit furniture into your event layout plan.
But don't limit yourself to these event layout ideas. You can use them as the foundation to create event seating arrangements that work for you.
1. Banquet
Almost everyone has at some point experienced these type of table layout.
Be it at a restaurant, wedding, party, gala event, or formal company event.
It's the most popular one of all the table layouts. It features guests seating on a round table facing inwards.
The only downside is that it interferes with sight lines for some guests.
For this table layout arrangement, we use regular wood or plastic round tables.
The plastic round tables seat 10 guests, and the wood ones, which come in two different sizes, sit 8 and 4 guests, respectively.
Factors that could affect these seating capacities are your choice of chairs and table decor or settings.
Ideal for: Any event that has elaborate catering and large numbers.
2. Family or boardroom
If you have adequate space and small numbers, this trendy seating style will make your setup stand out.
It heightens intimacy since everyone's facing each other.
The rectangle tables also contribute to the ambiance and sophistication of the event.
The only downside to it, is that it hinders sight lines on specific focal points.
To address this, try arranging it in a fish bone style such as the herringbone.
For a clear illustration of the seating capacity, our farmhouse tables sit a total of 8 guests on the sides only with this table layout. If you don't mind them at the heads, it can sit a total of 10.
But again, these seating capacities depend on how elaborate your table decor and setting are.
Ideal for: An intimate wedding event layout, party, or corporate dinner.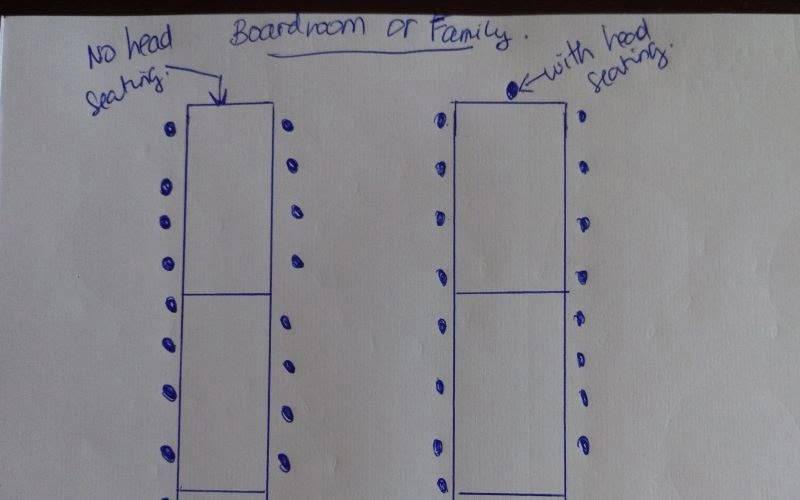 3. Cabaret or moon shape
To avoid the focal point visibility challenges wrought by banquet tables, consider the cabaret or moon shape layout.
Although, you'll lose significant floor coverage, especially if you don't have ample space.
An alternative would be to mix the table shapes, round and rectangle to maximize on space.
You'll notice that most concerts, awards shows and events with a specific focal point, feature this table layout as sectional seating.
Ideal for: Minimal number of guests for training sessions, product launches, or entertainment events (VIP/sectional).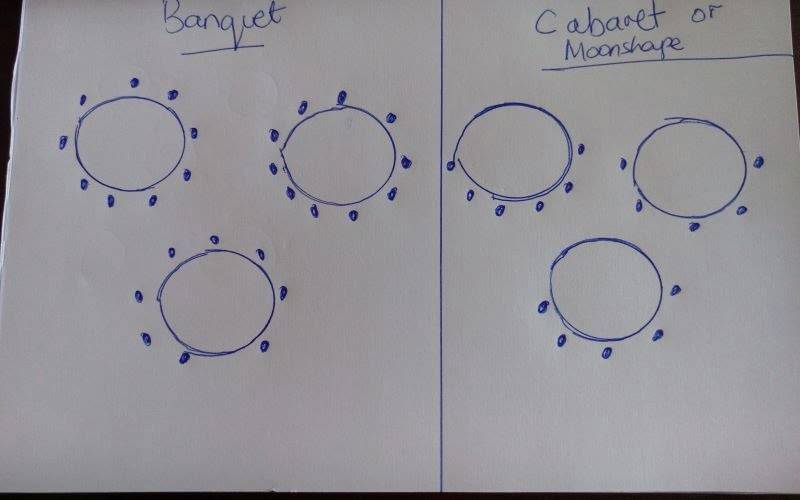 4. Theatre
When you have massive numbers, minimal space, and a tight budget (sometimes), theatre is your best option.
It's the simplest and one of the most prevalent event seating arrangements.
With it, you can create a specific focal point and draw event layout ideas to direct your guests' sight lines.
With social distancing, this layout will need more space between the seats and aisles.
It's also not the best for networking or food consumption.
Ideal for: Weddings, corporate events, speaker sessions, training, and sporting events.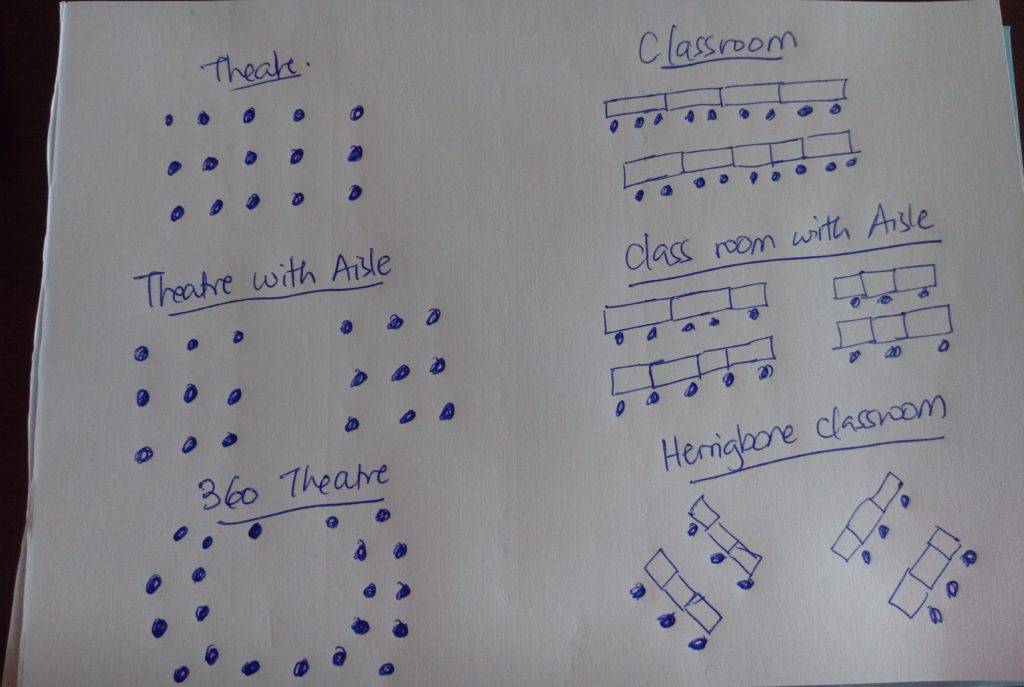 5. Classroom
This is one of the conference room setup ideas you can use to draw guests' sight lines to a specific focal point.
This layout is like theatre but with tables. It features tables and chairs in rows facing one direction ( a specific focal point).
Guests can take notes and consume food and drinks hassle-free.
It's a layout that's optimized if you have ample space because you'll need wiggle room between the seats and aisles.
Ideal for: Conferences, lectures, training, and launches.
6. Horseshoe or u-shape
The horseshoe or u-shape boosts networking since guests are in each other's sight lines, no obstructions.
It also helps with focal point visibility, especially if the numbers are smaller, about 10 – 20.
Please note: The horseshoe doesn't have any tables.
Ideal for: Minimal numbers for meetings, intimate or break-out sessions, presentations, and training.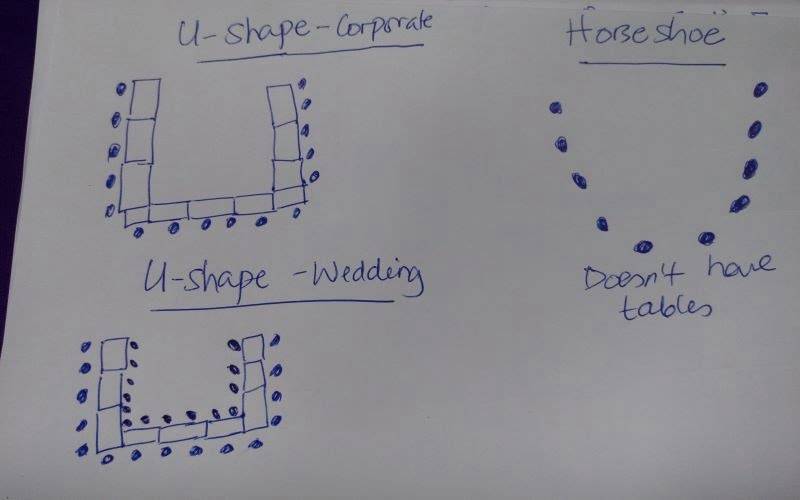 7. The hollow
When you want to have a deep discussion with a small group of people, this is the table layout to choose.
It's like the U-shape but with the open spaces filled out. With this type of layout, there won't be a specific focal point.
Ideal for: Intimate boardroom meetings, training, and workshops.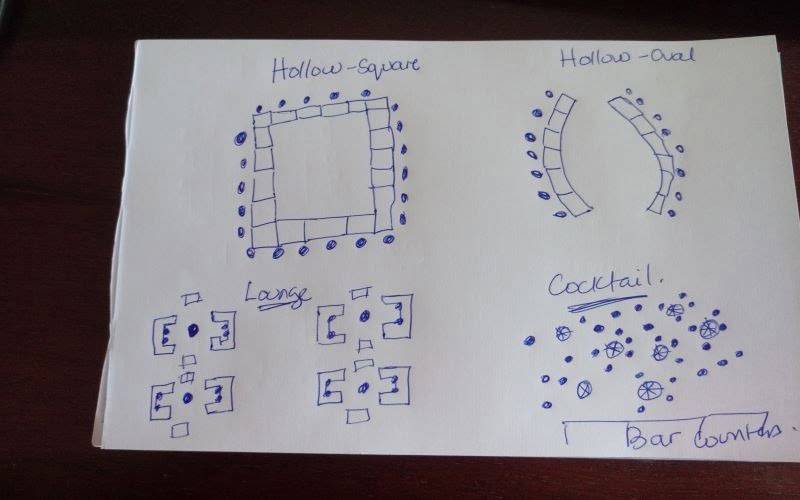 9. Lounge
Most events incorporate a lounge or chill zone to drive networking and socializing.
This layout features low seating with couches, coffee tables, and ottomans.
A lounge helps to break the formal vibe and ease guests into a merry-making mood. The downside is that it often lacks enough space due to bulky furniture.
Remember: Match your event event profile or theme to the right furniture for events.
Ideal for: Low and intimate sectional/cocoon seating for any type of event.
10. Cocktail/Bar
This is the perfect layout plan for business networking and socializing.
Why?
Because it features long bars with elaborate bar backs, lighting, and sometimes dramatic mixologists.
It gives clear sight lines to specific focal points for speeches, entertainment, or on-screen presentations.
Guests walk around and mingle freely while using high top cocktail or bar tables to place food and drinks.
The ideal business or corporate cocktail layout shouldn't include seating. This is to ensure efficient use of space, easy navigation, and high guest interaction.
Informal events, on the other hand, like weddings, concerts, festivals and house parties do better with seated cocktail table layouts.
Ideal for: Corporate sun downers, launches, concerts, and festivals.
How to make an event layout
A functional event layout creates harmony.
It's like listening to classical music or a jazz set.
The seating, eating, networking, entertainment, and educational spaces flow together.
The ease of navigation and traffic routes come together with ease to enhance this harmony.
Thus, to ensure you continue achieving this harmony in all your events, work with a procedure as follows;
1. Use scaled floor plans
It's not efficient to do in-person event site inspections all the time.
Because successful events rely on accurate data, which you need daily.
Thus, every venue should have a digital layout map of its event spaces.
These maps should also have optimal details. They should capture every column, dark corner, low ceiling, or any surprise element that could destroy the efficacy of your event layout plan.
Request the venue to share 3D replications for virtual site inspections.
These virtuals can integrate with any event floor plan apps to give you scaled floor plans for any event type.
2. Set a goal
There's nothing as thrilling as seeing your guests enjoy a space you've created.
So make this your event planning goal. What do you want your guests to remember from the event?
What experience do you want to deliver?
Does your experience include the five senses?
Your event goal is the driving force for everything you do in planning the event.
Let everyone on your team know your event goal.
It's not enough to source furniture for events and hire equipment.
Sell the vision and watch the magic happen.
3. Insist on accurate feedback
Successful events have accurate data as their firm foundation.
People might assume that adding 10 or 15 guests will have no impact on the tent size, table arrangements, or entire floor plan.
Not keeping tabs on these numbers will result in a distorted event layout plan.
This will be evident in navigation and traffic route congestion. Plus, poor sight lines as you rearrange the event seating arrangements.
4. Consider the entire catering experience
Follow up on all details concerning the catering experience.
Ensure it includes food and drinks preferences, especially for guests prone to allergies, those with pre-existing conditions, and vegetarians.
Catering is also a huge contributor to your event's experiential goals. Thus, follow up on issues like;
The menu – ensure that it covers everyone's preferences
Agree on the navigation– note and communicate how guests will serve their food and drinks
Setup – ensure the food and drinks stations complement navigation and traffic routes.
5. Include tasteful decor and entertainment
Enhance your event's harmony by including tasteful decor.
From the table layouts, catering layouts to statement decor pieces like backdrops, chandeliers, to event hire equipment like stag, dance floor and AV.
Ensure that these elements also fit into your scaled event layout plan.
A dance floor in particular if left out of a scaled floor plan, can lead to serious flaws. Because you always arrange furniture and the stage around it.
6. Signage
Never underestimate the value of good signage at an event.
Besides easing navigation and traffic, it boosts comfort, peace of mind and security by ensuring guests can find key resources.
These could be the entrance, exit, or help desk.
Related Searches
Outdoor event layout software free
Like indoor venues, there are also incredible layout ideas for outdoor venues.
There's a selection of outdoor event layout software you can download at no cost to create scaled floor plans within seconds.
Use the outdoor event layout software to generate your event layout plan according to the outdoor venue space and your outdoor event furniture hire needs.
Once done, store your outdoor event layout plan in the cloud and retrieve it when you need it. Examples of outdoor event layout software are SmartDraw and Visio.
Event floor plan sample
An event floor plan shows how all the elements needed to make a successful event flow together in organization and arrangement.
The example below shows a complete scaled event floor plan sample.
Frequently asked questions
1. How can the layout of tables and venue impact on a meeting?
A functional event and table layout delivers a complete sensory experience to an event.
Nothing happens by accident since there's an informed plan for everything that happens at each step.
There's no obstruction of focal points; there's adequate signage, easy navigation, and comfortable, functional furniture.
On the other hand, a flawed event layout plan is a disaster to any event.
Such an event is evident from the congestion, to poor choice of furniture, event hire equipment and guests' confusion.
2. What are some commonly used event space layouts?
The most popular event space layouts are theatre, banquet, classroom and cocktail.
Theatre packs more people into a space like no other seating layout.
Banquet is the best if you have an elaborate menu and a huge guest list.
Classroom works best for conferences and trainings because you can all focus on one focal point and be comfortable as you write or type.
Cocktail is the best for short, business networking events because it allows for movement and connecting.
3. Why is the layout of an event important?
Events are social gatherings with common objectives like building connections, contacts, entertainment or gaining new information.
The best networking takes places in functional spaces with sufficient space for movement, comfortable seating, lighting and general ambiance.
That's why the layout is critical to an event's success.
Final word
You're now definitely clued in on some of the best event layout ideas to consider for a successful event.
An event layout plan is a critical planning tool to help you deliver meaningful experiences for your guests.
The most critical points to cover when creating an event layout plan are:
Have a scaled floor plan
Set a goal
Reconfirm your numbers
Consider the complete catering experience
Include decor and entertainment
Put up signage to manage traffic routes and navigation
If you've got any questions on; 1) event layout ideas, 2) need help creating scaled floor plans 3) planning an event, 4) hiring decor or furniture for events, contact us.
Good luck at your next event!