There's no doubt that the best table layout ideas can highly guarantee your event success.
So to achieve a functional table layout, pay close attention to details on measurements and size.
To help you along, we've featured nine of the best event table layout examples to consider for your event.
However, you don't have to limit yourself to these particular table layout ideas.
You can use them as inspiration to create an event seating arrangement that's functional and meets your event objectives.
1. Banquet
Almost everyone has at some point experienced this type of table layout.
Be it at a restaurant, wedding, party, gala event, or formal company event.
It's the most popular one of all the table layouts and features guests seating on a round table facing inwards.
It's only downside is the interference with sight lines for some guests.
Our plastic round tables seat 10 guests, and the wooden ones, which come in two different sizes, sit 8 and 4 guests, respectively.
Factors that could affect these seating capacities are your choice of chairs and table decor or settings.
Ideal for: Any event that has elaborate catering and large numbers.
2. Family or boardroom
If you have adequate space and small numbers, this trendy seating style featuring rectangle tables will make your setup stand out.
It heightens the intimacy since everyone's facing each other.
The rectangle tables also contribute to the ambiance and sophistication of the event.
The only downside to it, is that it hinders sight lines on specific focal points.
To address this, try arranging it in a fish bone style such as the herringbone.
For a clear illustration of the seating capacity, our farmhouse tables sit a total of only eight guests on the sides with this table layout. If you don't mind them at the heads, it can sit a total of ten.
But again, these seating capacities depend on how elaborate your table decor and setting are.
Ideal for: An intimate wedding event layout, party, or corporate dinner.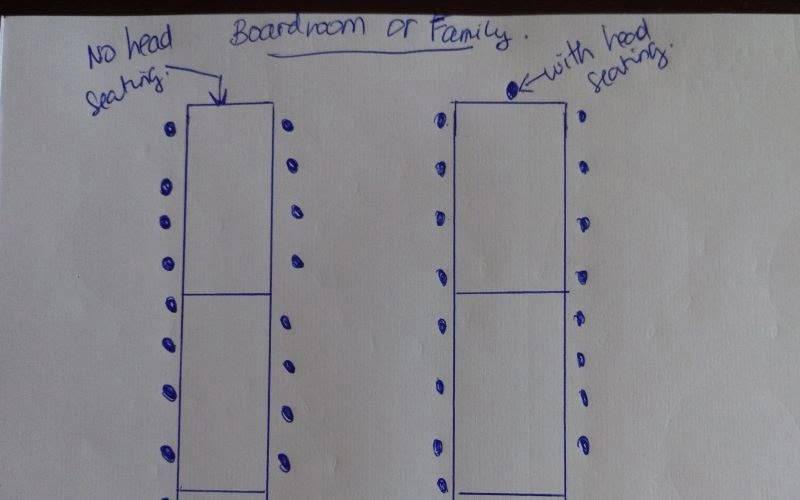 3. Cabaret or moon shape
To avoid the focal point visibility challenges wrought by banquet tables, consider the cabaret or moon shape layout.
Although, you'll lose significant floor coverage, especially if you don't have ample space.
An alternative to avoid loosing space would be to mix the table shapes, round and rectangle to maximize on space.
You'll notice that most concerts, awards shows and events with a specific focal point, feature this table layout.
Ideal for: Minimal number of guests for training sessions, product launches, or entertainment events (VIP/sectional).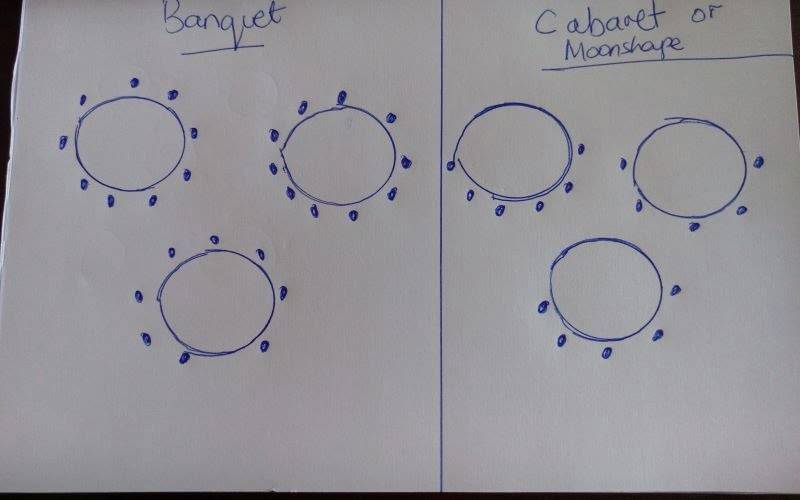 4. Theatre
When you have massive numbers, minimal space, and a tight budget (sometimes), theatre is your best option.
It's the simplest and one of the most prevalent event seating arrangements.
With it, you can create a specific focal point to easily direct your guests' sight lines.
Unfortunately, this table layout idea, isn't the best for networking or food consumption.
Ideal for large events like: Weddings, corporate events, speaker sessions, training, and sporting events.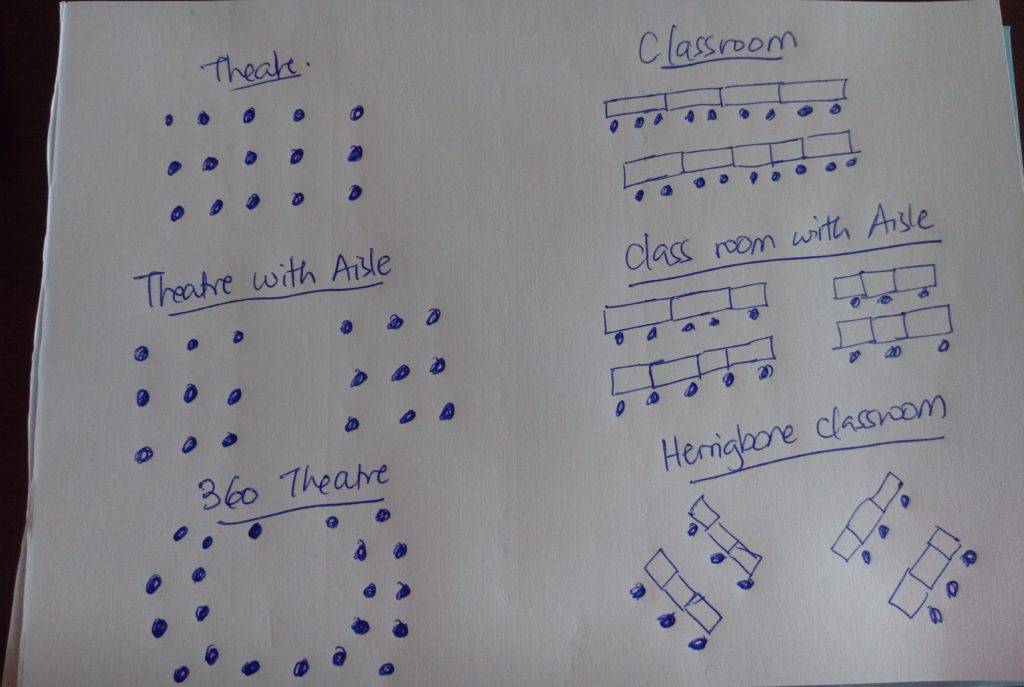 5. Classroom
This is one of the conference room setup ideas you can use to draw guests' sight lines to a specific focal point.
This layout is like theater but with tables.
It features tables and chairs in rows facing one direction ( a specific focal point).
Guests can take notes and consume food and drinks hassle-free.
It's a layout that's optimized if you have ample space because you'll need wiggle room between the seats and aisles.
Ideal for: Conferences, lectures, training, and launches.
6. Horseshoe or u-shape
The horseshoe or u-shape boosts networking since guests are in each other's sight lines, with no obstructions.
It also helps with focal point visibility, especially if the numbers are smaller, about 10 – 20.
Please note: The horseshoe doesn't have any tables.
Ideal for: Minimal numbers for meetings, intimate or break-out sessions, presentations, and training.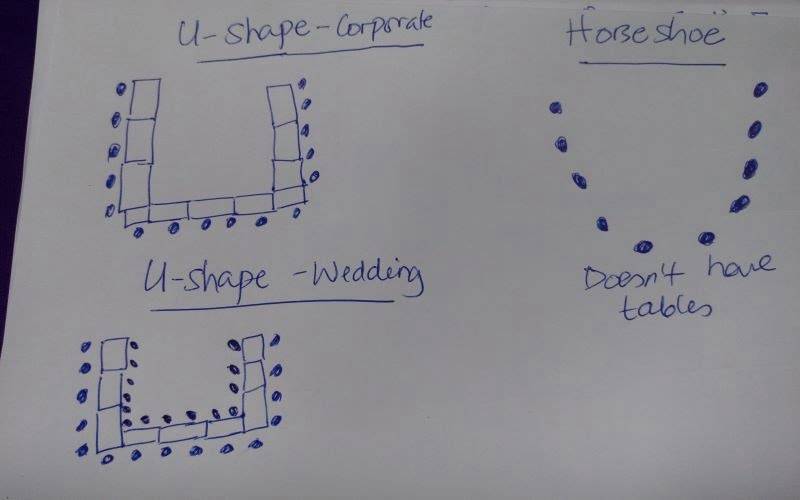 7. The hollow
When you want to have a deep discussion with a small group of people, this is the table layout to choose.
It's like the U-shape but with the open spaces filled out.
With this type of layout, there won't be a specific focal point.
Ideal for: Intimate boardroom meetings, training, and workshops.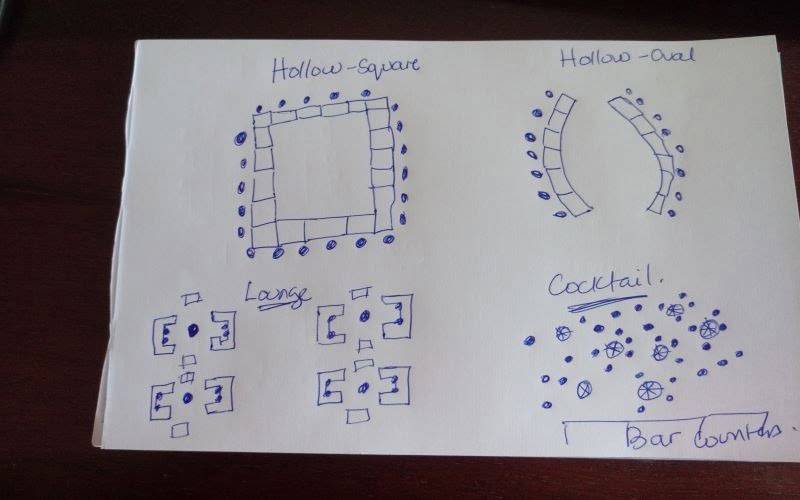 8. Lounge
Most events incorporate a lounge or chill zone to drive networking and socializing.
This layout features low seating with couches, coffee tables, and ottomans.
A lounge helps to break the formality of an event and ease guests into a social mood.
The downside is that it often lacks enough space due to bulky furniture.
Remember: Match your event event profile or theme to the right furniture for events.
We have a range of contemporary and rustic lounge furniture pieces ideal for various event types.
Ideal for: Low and intimate sectional/cocoon seating for any type of event.
9. Cocktail/Bar
This is the perfect layout plan for business networking and socializing.
Why?
Because it features long bars with elaborate bar backs, lighting, and sometimes dramatic mixologists.
It gives clear sight lines to specific focal points for speeches, entertainment, or on-screen presentations.
Guests walk around and mingle freely while using high top cocktail or bar tables to place food and drinks.
The ideal business or corporate cocktail layout shouldn't include seating. This is to ensure efficient use of space, easy navigation, and high guest interaction.
Informal events, on the other hand, like weddings, concerts, festivals and house parties do better with seated cocktail table layouts.
Ideal for: Corporate sun downers, launches, concerts, and festivals.
Contact us
You're now definitely clued in on some of the best event table layout ideas to consider for a successful event.
A table layout plan is a critical planning tool to help you deliver meaningful experiences for your guests.
The most critical points to cover when creating your table layout plans are:
Have a scaled floor plan
Set a goal
Reconfirm your numbers
Consider the complete catering experience
Include decor, entertainment and anything else within the space
Put up signage to manage traffic routes and navigation
If you've got any questions on; 1) event layout ideas, 2) need help creating scaled floor plans 3) planning an event, 4) hiring decor or furniture for events, contact us.
Thanks for reading and good luck at your next event!