In this article, you'll discover the best engagement rings in Kenya; which ones they are and where to buy them.
Because nothing says 'I love you' like a unique engagement ring.
And no, don't feel pressured because that's just the way it is.
Long after De Beers knocked off plenty of men's socks with the 'a diamond is forever' campaign, a unique engagement ring is STILL one of the most coveted jewelry pieces by potential brides.
So, how do you find her one of the best engagement rings in Kenya?
Simply by consulting a specialist jeweler to advise you on selection.
As people's tastes evolve, the choices become diverse; hence an expert's opinion is quite valuable.
At Lucidity Africa Events, we're event planners in Nairobi who work with professionals to ensure you get the best services and products for your special day.
In this article, we share some valuable details on what you need to know about selecting an engagement ring.
How can you make an engagement ring the best and unique?
Your girl probably has a yearning for something different.
Perhaps she wants something visually appealing, but also different, timeless, personal, and even unusual. To achieve these, here are some ideas.
1. Customize the design
You don't have to take what's on display if you can create your own design.
A specialist jeweler will assist you with the creative design process and then craft it to your liking.
In fact, you can incorporate two or more designs you like, or your design can revolve around a theme that you both relate to and has deep significance to your relationship.
2. Vintage or one of a kind ring
If you can't customize, don't fret, there's always a good variety of vintage and antique rings.
Most vintage rings are handcrafted, bear unique designs and are proven to be durable.
Again, your specialist jeweler will advise if any modifications or adjustments need to be done without whittling down the initial design or value.
3. Very rare gemstone or metal
How about getting her birthstone or one that reminds you of her? There's a gemstone for every personality and season.
Carry out some research or consult an expert.
Whatever the choice, it should be something that resonates with the two of you and is unique to your special bond.
Steps to selecting a unique engagement ring
Now that you know the choices available for a unique engagement ring, the next step is to start sourcing.
Yes, it can be a reasonably daunting task with several unclear choices, but you should make it fun as it will form part of the analogies you'll share with your grandkids one day.
Best engagement rings in Kenya: Check with Zaveris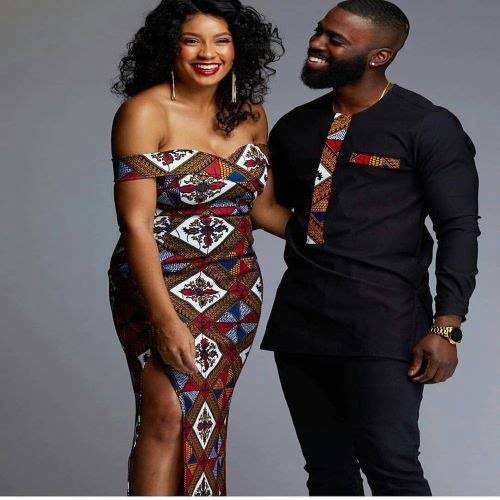 Ever heard of Zaveris?
Well, the Zaveris brand is a family-owned business in Nairobi with a jewelry-making heritage that spans over five generations.
Zaveris was launched in 1994 purposely to make it easy for Kenyans to own high-quality genuine sterling silver and gold jewelry at affordable prices.
What's more, their skilled artisans work with precious metals using handcraft and high tech equipment to bring any idea to life.
Seeing as this is one of the most profound events of your life, here are some tips from Zaveris on how to source and select a unique engagement ring.
1. Set a budget
Crunch the numbers and decide what you're willing to spend on this unique engagement ring.
Don't give in to the hype or get caught up in a trend.
Listen to your heart, because this ring will be an eternal symbol of your love.
What impression do you want to create? Will she love it and cherish it?
If you need something extra to make it perfect, Zaveris has an easy on pocket payment plan which can come in real handy if you start out early.
2. Know your girl's individual style, personality and lifestyle
By now, you probably know her pretty well.
Perhaps she likes flashy pieces, or she prefers understated, barely-there jewelry. Either way, her preferences will influence your choices.
Consider her way of life too.
For instance, will she wear it frequently, or does her vocation require her to take it off at some point?
Rough handling can damage a durable jewelry piece.
Put all the necessary considerations and discuss them with your jeweler.
3. Select the design
This is potentially the most challenging step in the ring selection process.
It determines the decorative aesthetics and the technique used to mount the central gemstone.
Styles vary from classic, ritzy, to contemporary and vintage.
Some of the famous ring setting styles are solitaire, eternity, tiffany, halo, bezel and channel.
A solitaire has always been the popular ring setting style.
It's got a single stone, usually a prominent gemstone like a diamond.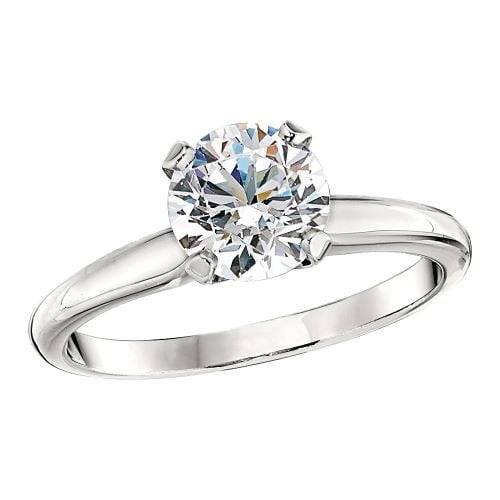 Although, according to Zaveris, the halo setting, which features smaller stones encircling a larger centre stone, is currently riding high.
The fact that this design has been uniquely evolving keeps it firmly on the radar of many a bride.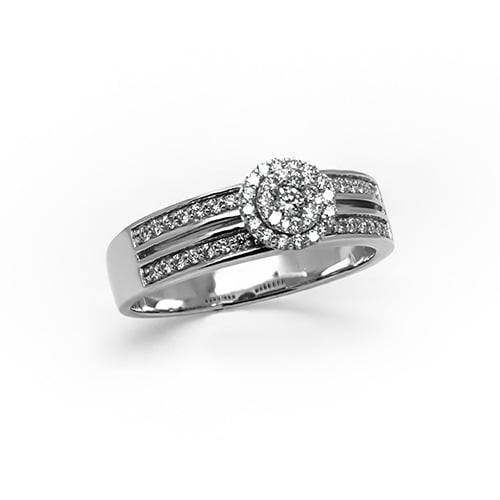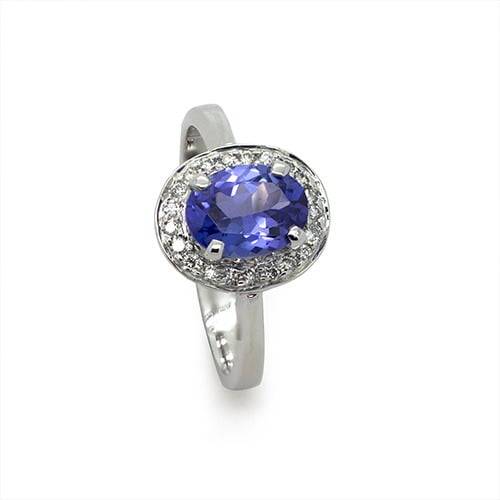 But all things considered, use your knowledge of her personal style and preferences to select the perfect setting style.
4. Choose the gemstone
An engagement ring looks stunning with a sparkle of diamond and/or other precious gemstones.
If you're going with a diamond, knowing the 4Cs used to value them is essential.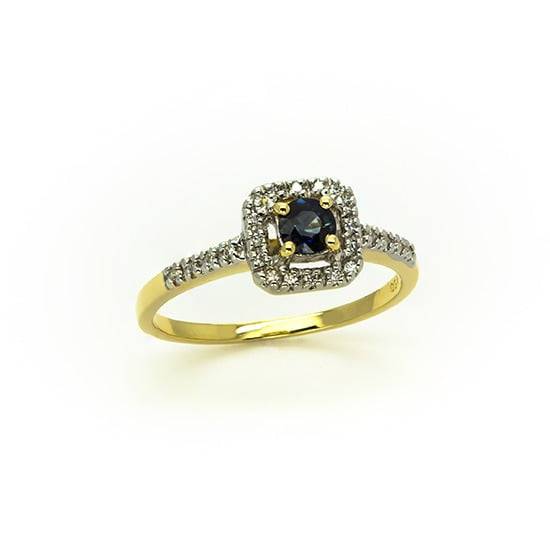 The cut impacts the sparkle, refraction, and reflection of light within the stone.
Clarity has to do with flawlessness. Ever heard of a diamond in the rough? Diamonds generally come with imperfections on the inside known as inclusions, and those on the surface are called blemishes.
A perfect diamond has no color. The less the color, the higher the quality.
Carat weight is basically the weight of a diamond. A single carat weighs 0.2gm.
One of the reasons you'll need a specialist jeweler like Zaveris is because they'll guide you in balancing out these key factors.
For example, a poor cut can ruin the ideal stone. A larger diamond with poor clarity and color can end up costing less than a smaller diamond with excellent clarity and color.
If your girl isn't a diamond person, that's fine too because there are plenty of other distinctive gem stone choices like sapphires, emeralds, amethysts, rubies, tanzanites, and semi-precious gemstones.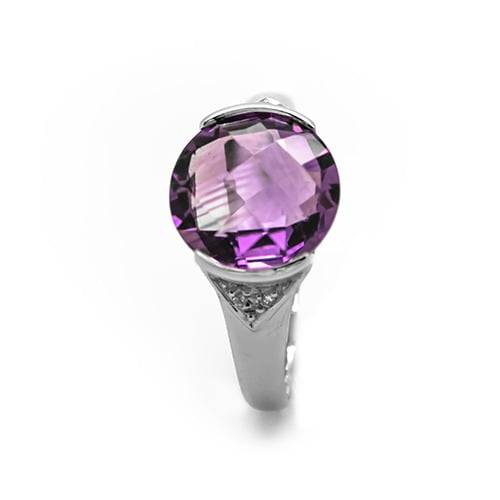 5. Decide on the metal
The type of metal you select will enhance the setting style and add to its personality.
The selection at Zaveris includes sterling silver, gold, white gold or a mixture of both. The most popular being white gold because it looks good on any skin tone.
Also, the main difference between white and yellow gold metal is just the coloring.
Another thing: Each metal has its pros and cons, mostly due to issues of longevity and maintenance. Be sure to ask for the best recommendations.
6. Agree the ring size
To make your selection extremely easy, use a ring size chart, then measure your finger, and match it to the chart's correct one.
Or sneak out a ring to Zaveris that fits her really well, and they'll do the rest. Ideally, the ring should slide easily without the risk of falling off.
Whatever James Bond tactics you decided to employ to obtain a sample, here are the sizes to work with.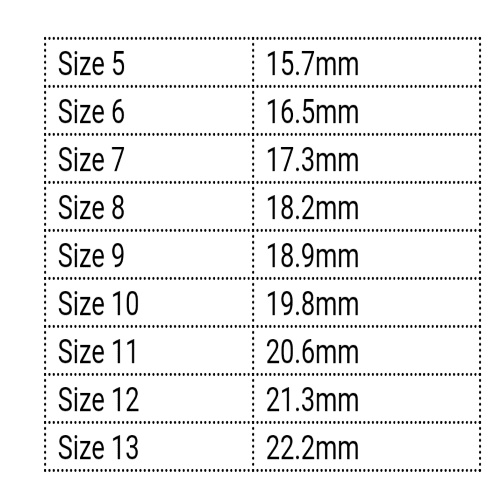 Once done with the selection, they'll advise you on other valuable details like insurance, packaging, and grading reports, especially if it's a diamond.
It takes about 3 -4 weeks to craft the ring, so start planning early.
Best engagement rings in Kenya: Planning the proposal
Finally, you now have the ring in your pocket and are ready to make the BIG announcement.
Here you could opt for an intimate setting where it's just the two of you or a gathering with close family and friends.
Either way, be sure to match the ambiance to the unique engagement ring in your pocket: Fab décor, lighting, fresh scented flowers, and a bottle of bubbly. 
These are truly precious moments that will be etched in your memories forever; give it your all, and make it unforgettable.
Something to remember: If you're not entirely sure about the fitting, Zaveris can get you a standard sized ring that you can use for the engagement and then return within a few days for the perfect fitting.
Once she says, YESSSSSS!!!!!, it signals another significant step in your nuptials journey –unique wedding rings.
Though now it will be a lot easier, and you can make the selection together.
For the unique wedding rings, Zaveris' options are gold, white gold, or a mixture of both or sterling silver.
You'll get to choose the quality of gold you both prefer. With precious stones or without. With a diamond or other gemstones.
The styles can be unique, or you can match with a his and hers pair—basically, there are many options to choose from.
Further, if you'd like to order online, browse through their site then, make inquiries via email or using the WhatsApp icon on the website.
In fact, purchases can be made from anywhere in the world, and the goods collected or delivered within Kenya.
Final word
See, it's not that challenging if you're working with a specialist jeweler to select one of the best engagement rings in Kenya.
Zaveris has been doing this for 25 years and would like to be a part of your incredible journey together by making your dream engagement and wedding rings.
For your engagement or wedding planning needs, feel free to call/text/Whatsapp us on 0721771185 or email: joan@lucidityafrica.com