If you're keen on event planning, meet Adil Rashid, a young rising EVENT PROF. He's been an event planner and designer for almost six years.
The first thing that strikes you about Adil, if you've dealt with him is his work ethic. He's a great communicator and always shares feedback succinctly.
So let's sit back and learn what informs this work ethic. Here's his story.
Career journey
I graduated in 2014 with a BSc degree in International Business Administration (Marketing) from United States International University – Africa (USIU-A).
My first love was hospitality, and my plan was to get into the tourism and hospitality sector.
Hotels and restaurants have a certain je ne sais quoi that appeals to me.
However, at the time, events were also evolving. Platinum Weddings, a show on the Fine Living channel, piqued my interest.
This interest was heightened, when a former alumnus of the university, a certain lady came to give us a talk on internship.
At the time, I was in the PR & Marketing club. And what I recall vividly is her emphasizing why we shouldn't be afraid to send out our CVs.
That if you're interested in something you love, just go for it.
Hence, my interest in events grew.
There were a lot of exciting design styles coming up, and my attention was drawn to a company called Infinite Planners.
They had a different style of décor that I found attractive. I contacted them, and after a series of interviews, they took me in as an intern. And that's how my events journey began.
The start of a journey
At Infinite, my exposure was on a variety of projects such as weddings, corporate and private events.
As an intern, I was learning on the job by eagerly asking questions, attending meetings and site visits. Purely immersing into this new world and reverently trying to understand how events work.
Over those three months, I learned a lot. We even did a big Indian wedding in Mombasa, which exposed me to the intensity of the business.
Remember, when I told you how hospitality was my first love? Well, these job sojourns revealed me to new experiences. I visited new venues, different hotels and restaurants. It was an exhilarating experience.
Even so, I soon realized that this industry can take an extreme toll on your other life –family and social. The idyllic image and glamour I had seen on Platinum Weddings wasn't as simple as pie.
It took loads of time and energy just to deliver one successful event. We often stayed out very late, and the details were quite involving.
Additionally, the last-minute briefs that we had to sort and irregular working hours could get you totally wrung out. I'd already extended the internship by two months, but at this point, I was seriously contemplating switching careers.
So at the end of the internship and after a short stint at home, I applied to NORDA Industries. It's a manufacturing company that specializes in crispy snacks.
I went in as a marketing trainee, and my work involved supporting their sales and marketing promotions at various sales outlets.
It was a great opportunity, and the work experience gave me a local perspective (on the training I had received at uni).
But guess what? The event bug had bitten me, and I'd become an adrenalin junkie. The events world can give you a proper incessant pounding. Yet, it's thrilling, unpredictable PLUS you're literally learning new stuff every day.
As a result, I sought to reconnect with it by contacting Infinite.
Yeah, I know you're thinking I was crazy to go back. I should have given NORDA and normal working hours a chance and yet there I was. Ideally, to find out whether they were hiring for permanent positions.
Luckily they were, and I started on as a project manager in October 2014.
Rules of excellence
This time, I went right into the event planning docket and started on detailed event planning and design.
It meant taking an event as a project from start to finish –developing concepts, selecting, and managing every aspect of the event. From this experience, I developed specific vital skills:
Patience
I learnt as an event planner and designer, you need first to understand that everyone's different.
People have different temperaments and perspectives.
Take the time to respond to each person as they are and in the style that they approach you. Learn their communication style and apply it appropriately.
Communication
You've got to communicate clearly to everyone. Confirm that everyone is in on what's happening every step of the way.
Don't assume that they know.
Take the initiative to make sure that they actually do. Note that communication is a continuous process throughout a project's cycle.
Attention to details
Details, details, details let this be your daily mantra.
Have a notepad or somewhere you jot down stuff about the project. Don't be bypassed by anything the client says. Write it down, develop a checklist and keep re-checking and reconfirming.
Oversee everything, even if you've delegated, find a way always to have the full picture.
Professionalism
One of the challenges we have as event profs is consistency.
We need to learn how to deliver what we promise to clients and even more. We should be tied to our word at all times and aim to build that trust with our clients.
Passion
This is the fire in your belly. It's the thing that keeps you going back to the action scene. It's what keeps me going, and I firmly believe that if you don't love what you do, it'll be impossible to succeed in your career, especially a demanding one like events.
I'd also add that a good event planner and designer should always be eager to learn and be very adaptive to any situation. Always have a Plan A, B, C all the way to Z!
Of all event types I've encountered, I'd have to say weddings are my favorite. This is because planning them is a journey that can take months or even a year. During this period, your client and your team become your closest allies.
And when you deliver, a client is always grateful, and very expressive about it. It gives me immense joy and satisfaction. Finally, all the late nights and anxieties are validated and are genuinely worth it.
In October 2018, after 4 years at Infinite, I took a break to attend to pressing family matters. Then in February 2019, I received a call from AURA. Apparently, there was an opening at their event planning and marketing department.
Unlike Infinite, AURA's style is over the top glamorous with assorted unique accessories. I've learned a lot, especially on the design side of things. Here it's less of planning and more of design, being creative and practicing every day.
From the experience I've garnered in this industry, I'd tell clients that there are so many aspects to consider in this business. Before you decide or settle on your décor, first identify the venue.
And not on your own, involve an event planner and designer because a venue determines a lot of things about the event design (and experience).
Budgeting is another one that needs to get the highest priority. Event décor materials and accessories are costly in Kenya and not easy to find. In fact, some flowers are not locally available.
To pull off something super amazing isn't cheap. When you look at overheads and margins, it's critical to consider business survival too.
Another thing is that the creative process in event planning and design needs time. To ensure that the final idea presented is the best and that it's refined.
In practice, there's a lot of experimentation and trials that go into color palettes, furniture, linens and layouts. Also, sourcing and booking for the perfect props needs reasonable lead times.
Career highs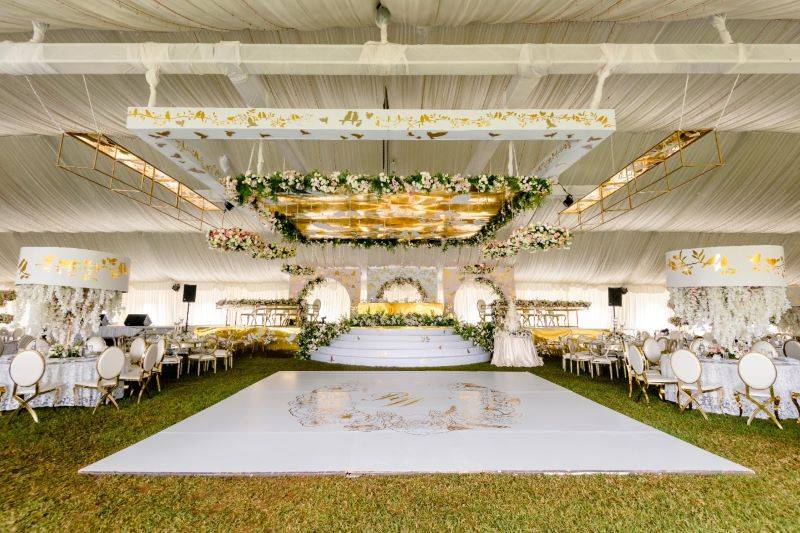 The most significant high I've had was from a destination wedding for 80 guests we delivered at Serena Elmenteita. We planned it in 3 months, and the teamwork was excellent.
The best part being that whatever the client had wanted, we exceeded their expectations. The couple was elated, and to this day, we have a special connection. There were significant learnings on that project that I continue to rely on in the execution of my work.
In December 2015, I had another mind-blowing experience where I was involved in a high-level delegation project with the UN to Somalia. We were there for 21 days, executing multiple events.
There was also an educational trip to Dubai. We attended the Exotic Wedding Planning Conference (EWPC), and here I met some of the event planners and designers I revere from across the globe.
Another high is unique opportunities for training from leading event planners and designers from around the globe. At AURA, the emphasis is always on being creative and improving your skills. As a young event prof, this fills me with a great sense of pride and joy.
Generally, I've had a fantastic run on exposure by visiting various amazing venues and countries.
Career lows
Ha! These are the usual suspects.
Stress
Sometimes, a massive workload and the pressure of high expectations can get to you. So, what I often do is pray, meditate or do something I enjoy, to decompress.
Anxiety
There are moments you're as anxious as a cat on hot tiles. I've been trying to let go of the fear of failure. This is the negative side of passion. When you don't want to disappoint a client and try to control everything. It's practically impossible.
No family time
Not spending enough time with family and friends has to be the most significant low. But it's inevitable so, what I do is try to make up for it on my free days. Or call them as often as I can. Thank God for Whatsapp!
Inspiration
Before the crisis, AURA sponsored me to a design master class in Uganda.
One of the things that stood out for me is on sources of inspiration. The trainer told us to be open-minded in our quest for creativity.
Thus, I'm learning to look beyond the usual for my design inspiration.
That is, the environment around me, art pieces, architecture, interiors and wallpapers. Basically, anything that strikes me to get inspired. It's how I translate those ideas into concepts and designs.
My design style
I'd describe it as a cross between elegance and glamour but not minimal – (yet very clean look). I
'm in effect more daring now. I follow many a event planner and designer from all around the world –Australia, the US, Europe, Africa, and Asia. There's truly no limit to excellent expertise.
The good thing about Kenya is that it's multicultural; hence there's a diversity of event themes and styles.
The future: surviving the crisis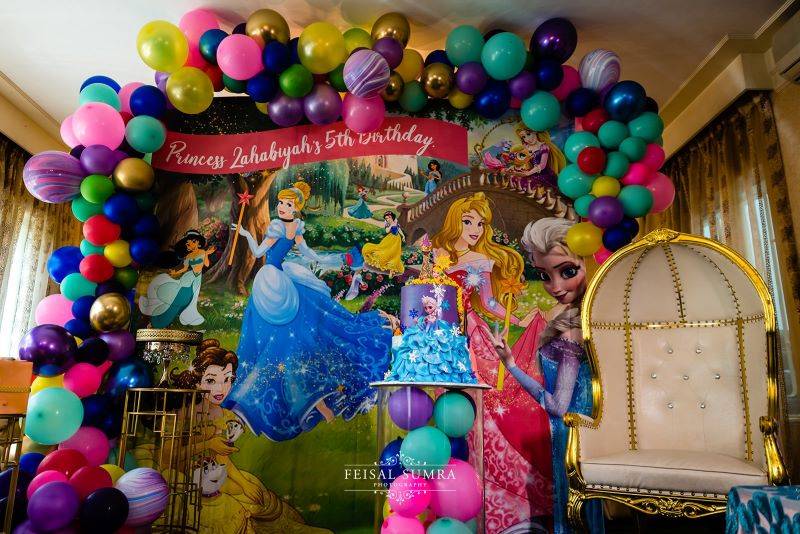 This crisis has shown me that despite work being important, other things matter more. Like family and your personal space.
My employers have been fantastic and understanding, giving me the space to share and discuss openly. We're learning a lot together especially what we can do to improve our workspace and work experience.
Because of the crisis, we'll also need to innovate and adapt real quick. There has been an adverse test on our life and business models. It seems there's a lot of re-engineering to do.
Despite everything and as event profs, we've STILL got to deliver consistent high quality work even with the likelihood of constrained budgets. I'd specifically like for everyone to be mindful and considerate of each other.
Family
Being a Kenyan Asian, we believe in BIG family units. I live with my parents and younger sister while 2 are married. We're originally from Pakistan with a handful of relatives in Nairobi. Most of the extended family is in different cities across Pakistan and around the world.
I love my family and being in this business it's often tricky. Mainly when I can't be with them during important family events and celebrations.
Giving back and the community
I firmly believe that we should schedule time and resources to give back to our communities.
I'm particularly drawn to those that are –abled differently –especially kids with special needs. Believe it or not, I used to have elementary sign language skills when I worked with deaf and autistic kids (clearly an intriguing story for another day). It's a bit rusty now. I should probably review and catch up again.
Incidentally sometime last year, I was delighted to discover the Palette Café in Lavington that employs staff that are hard of hearing. I think this is a fantastic opportunity for businesses to consider –how to be more inclusive of this group in the workplace.
I'm also keen on the environment and sustainability. Mostly, how we can clean up, plant trees and do everything possible to preserve what's around us.
Last thoughts
First, I'd like to acknowledge everyone who's played an active role in my career trajectory as an event planner and designer. Susan, Diana and Alex at Infinite and now Fatema at AURA.
I'd also like to encourage upcoming event profs. This is an industry that looks glamorous on the outside but requires TONS of passion and grit to succeed. More importantly:
Be passionate
If you love something and are good at it, give it your all. Be present to the moments, and always seek to exceed your clients' expectations.
Respect everyone
The events business is people-driven. That's why we're amongst the worst-hit industries. You'll meet all types of people in this industry, such as loaders, drivers and CEOs. Respect them all and treat them humanely.
Honesty
If you can't do something, say so. If something goes horribly wrong, speak up. Don't try to control everything only to fail at it. As an event planner and designer your reputation is built on trust and honesty.
Teamwork
You're only as strong as your weakest link. Be inclusive and help everyone along to see the vision and then execute it. Learn to brief proficiently and involve everyone each step of the way.
God first
Whatever your beliefs, remember to be grounded in something bigger than yourself or anyone.
Final words
Are you happy to meet your event prof for June? We're pleased you've learned something about what it takes to be a successful event planner and designer.
Remember it's not enough to learn, you've got to take MASSIVE action by implementing it to become the best possible event prof.
Follow Adil on Facebook and Instagram
Our piece on assorted table centre (or statement) pieces will run in the next post. So, look out for it.
Also, don't forget to subscribe to our mailing list!