In this article, you'll learn how to choose the right colour combination for event decoration in Kenya.
Colours brighten our spaces, and knowing how to interpret them is a valuable skill because it enables you to select them carefully and apply them effectively. 
Additionally, proper colour combination enhances your event decor to ensure it always stands out.
What is colour?
Colour is your visual perception of an object in terms of its hue, lightness, and saturation. Colours allow us to set the mood, impact behavior and evoke emotions. Event colours, therefore, help you to transform a space to achieve your desired objectives.
Understand the meaning of your event colours
Colours mean something because they're used to communicate certain messages.
Hence the first step in choosing the right colour combination for event decoration is to 1) understand the meaning of colours and 2) basic color terminologies.
To help you along, we've covered some of the most popular colours in Kenyan events below.
Gold: This colour is a cousin to yellow and brown and a symbol of wealth, prestige, success, triumph, confidence, divinity, and power.
Gold is ideal for launches, weddings, graduations, anniversaries, and religious events. It pairs well with white and darker hues like purple, blue, green, and black. 
White: This is the colour symbol for cleanliness, simplicity, and perfection. It also promotes open-mindedness and self-reflection.
White suits any type of event and is the best colour to balance or act as a base for your primary colours.
Emerald Green: Emerald is a shade of green, a colour that symbolizes balance and harmony. Green has strong associations with nature and the environment.
It's considered the colour of luck, freshness, and renewal. In colour psychology, green is thought to help balance emotions and promote a sense of calm and clarity, making it the best colour for networking events. 
Pink: This is one of the best colours for symbolizing kindness, comfort, sympathy, compassion, and acceptance. Pink is also a feminine and intuitive colour bursting with pure romance.
It pairs well with most colors like white, purple, orange, and aqua blue and is the best one for bridal showers, birthdays, and baby showers.
Magenta: If you want the colour for universal love at its highest level, consider magenta. It promotes compassion, kindness, cooperation and encourages a sense of self-respect and contentment.
Use magenta for charity events, chamas, and mood lighting at any type of event.
Peach: As a colour, peach is a blend of white, yellow, and orange. It evokes feelings of warmth, comfort, joy, and youthfulness. In Chinese civilization, it's the colour of immortality.
Peach creates warmth and vitality, ideal for romantic environments, making it the perfect colour for weddings, bridal showers, baby showers and engagements. It pairs well with grey, green and blue. 
Best color combinations for birthday party, weddings and meetings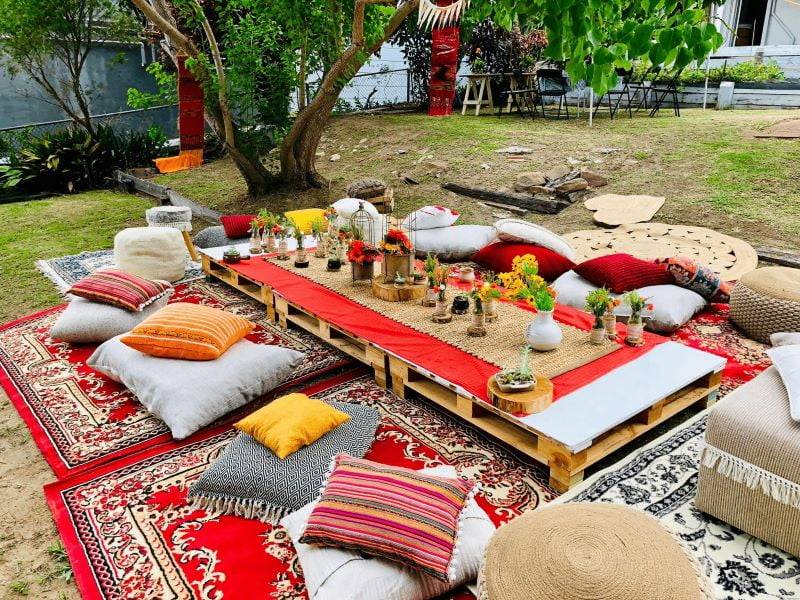 Champagne: This mixture of yellow and orange closely resembles beige. It evokes joy and sophistication and is refined, traditional, rich, and conservative.
Champagne gives a gentle look with a slightly vintage feel. Being a borderline neutral shade, it pairs well with most colours and is ideal for weddings, anniversaries, and adult birthdays.
Turquoise blue: This colour helps stabilize emotions and increases empathy and compassion. It emits a cool, calming peace, boosts positive mental energy that improves concentration and clarifies our mind.
It also creates a balance that clears the path to spiritual growth. Turquoise blue is your best bet for training sessions, meetings and icy or water-based themes.
Cherry Red: Red draws attention like no other colour and radiates powerful energy that motivates us to take action. It is also linked to sexuality and stimulates deep and intimate passion.
Red is ubiquitously used to warn and signal caution and danger. It's the best colour for themed events like Valentine's and corporate events where you require urgent actions. 
Sunshine Yellow: Yellow is a cheerful and energetic colour that brings fun and joy. It makes learning more straightforward as it affects the logical part of the brain, stimulating mentality and perception.
It inspires thought and curiosity and boosts enthusiasm and confidence, making it the best colour for kiddie events and product launches.
Orange: This youthful, energetic colour exudes warmth and joy and is a fun color that provides emotional strength.
It's optimistic and uplifting, adds spontaneity and positivity to life, and encourages social communication and creativity. Orange is therefore one of the best colours for product launches and business meetings.
Coral: Coral gets its name from marine invertebrates decorating the bottom of the sea. It symbolizes peace, comfort, friendship, and safety.
For your event decor, coral goes well with white, yellow, grey, and navy blue. It's ideal for lounge areas, picnics, and baby showers.
How to choose your event colors
You can rely on the latest global fashion and interior design trends to get hints on the popular colours to choose. 
Another influential colour trendsetter to consider is Pantone, a US-based company. Since 2000, the Pantone Colour Institute, with the help of a few select individuals from various industries, decides on the "Colour of the Year".
Once they announce this colour, it's immediately picked by leading fashion designers, product designers, graphic designers, event designers, and voila, you start noticing it everywhere.
Tips on choosing your decor colours
However, while trends are helpful, the ultimate decision rests with the event owner under the guidance of an experienced event designer. To empower this decision, we recommend the tips below.
Consider the mood you want to create. Soft, cool colours and neutrals create a quieter feeling, while stronger colours enhance drama. Warmer, contrasting, and somewhat brighter colours add to a pleasant atmosphere; while deeper blue greens and neutrals will give a more formal ambiance.
Match your colours to the selected venue. The venue will essentially determine your event colour palette. Natural daylight prominently shows the most accurate colour; Strong lighting notably brings out warm tones and yellows while bright lighting casts a sharp blue tone.
Learn color terminologies and how to use them. For instance, hue refers to the colour, value to lightness or darkness, saturation to dominance, and intensity to brilliance.
Test your colour choices. Practically try out to see how they fit and complement each other; don't be afraid to go beyond your comfort zone.
Finally, seek knowledge to understand colours, their symbolism, and the emotions they evoke. Crown Paints has excellent colour tools to build this knowledge. Check Pantone, Colour Meanings, or even your local hardware for a simple colour chart!
Frequently asked questions
1. How do you decide what colors go together?
You'll know which colors go together by relying on your intuition or comparing and contrasting them on a color chart. Alternatively, you can use use color matching apps like Coolors and Canva to guide you.
2. Which colour combination is the best combination?
The best color combination depends on your type of event and objectives. However, gold and purple, aqua blue and yellow, orange and emerald green deliver some of the best color combinations for event decor.
3. What is the maximum colour combination for an event?
You can only use a maximum of three colours in a space. The dominant background colour, a secondary colour and an accent colour. However, you can use variations of these colours to enhance your event decoration.
Contact us
We hope you can now select the right colour combination for event decoration at any time.
Understanding colour psychology and how to apply colours will help you to always deliver excellent event decor.
At Lucidity Africa, we're event decorators in Kenya with the expertise to help you deliver elegant events. Feel free to contact us on 0721771185 or at [email protected].