If you're on a budget or event planning overwhelms you, an event package will do you good.
We have affordable event packages to give you convenience, flexibility and knock the hassle off your event planning.
Lucidity event packages 2022 are for weddings, birthdays, graduations and picnics.
Besides competitive prices they come with all the basics you need to execute a decent, elegant event.
Want to know more? It's all in this article.
What is an event package?
An event package is a specially customized and subsidized budget created by a service provider for a specific type of event. It captures all the essential elements required and some adds-on to help deliver the event with ease.
1. All inclusive wedding package Kenya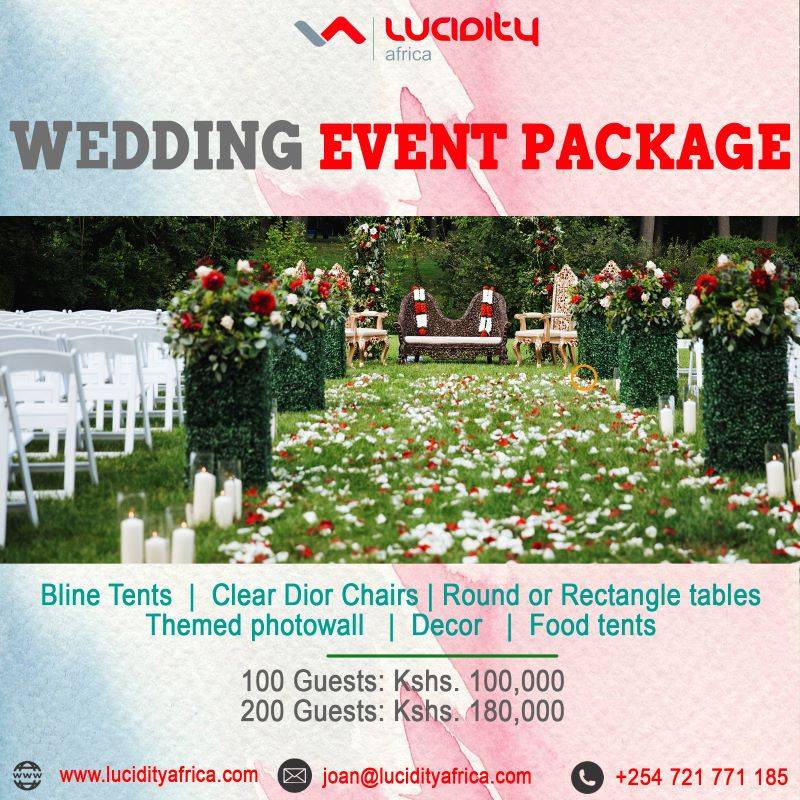 When you think of a wedding, you expect pomp, color and fireworks. But what if all you need are just the basics?
Our wedding event package 2022 provides all the crucial elements you need to deliver a simple, elegant wedding event.
We have two options, one for a 100k wedding budget in Kenya with 100 guests or a 180k wedding budget for 200 guests.
2. Birthday packages Nairobi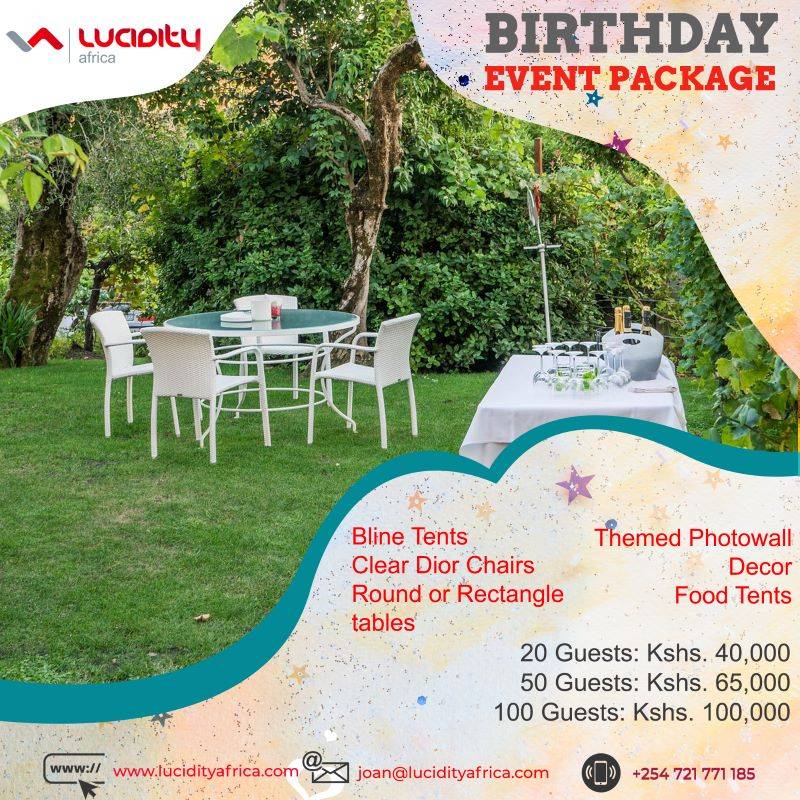 Looking for an affordable birthday party package? Consider ours.
Birthdays are an incredibly valuable milestone for many people and our goal is to make them as memorable as possible without breaking bank.
Our birthday parties packages are for 20 guests, 50 guests and 100 guests, all hiring tents, chairs, tables and decor.
3. Graduation event package Kenya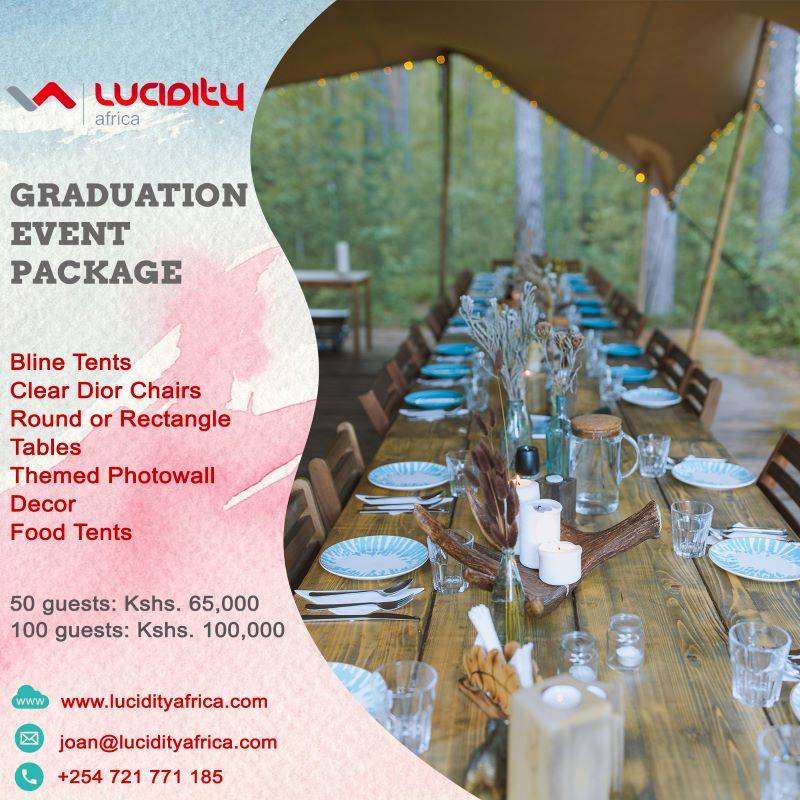 Your graduation is an incredible event worthy of celebration.
We know you're anxious to have your family, friends and other well wishers celebrate it with you and that's why we'll go all out to make it happen.
We have an affordable graduation party package for 50 guests at Kshs. 65,000 and 100 guests at Kshs. 100,000.
4. Picnic event package
Picnics are fun and ideal for small intimate parties like chamas, catchups, baby showers, bridal showers and even birthdays.
Our picnic event package is for 10 guests at Kshs. 25,000, 20 guests at Kshs. 50,000 and 40 guests at Kshs. 80,000.
You'll enjoy this package because we have incredible props like the #boho placemats #farmhousedecorbeads #kiondopoufffes #caramelpouffes and more to make it extra special.
All the packages come with help on theme creation, one site visit, continuous support on phone or email, and ground support on the event day.
Remember: You can customize our event packages to suit your needs, and we'll make the amendments accordingly.
Frequently asked questions
1. How do I plan an event?
First, understand what your type of event requires by creating a checklist. Next, identify a venue and suppliers, then create a plan of how you want things to flow from start to end. However, having an event package to guide you makes it easy, convenient, and flexible.
2. What do most wedding packages include?
Most wedding event packages will include all the basics you need to execute the event. These consist of tents, event furniture, and decor. A Lucidity wedding event package on the other hand, goes the extra mile to offer competitive prices and add-on services to support you throughout the planning process.
3. How do you organize a low-budget birthday party?
The first thing is to make a checklist of everything you need and then indicate next to each item how much you want to spend. Based on the item, decide how and where to source it cheaply. Alternatively, you can talk to us about a detailed and competitive birthday party package.
Contact us
Our event packages will help you enjoy the event planning process as they're flexible and convenient. What's more, we'll help you save a buck with our competitive prices.
If you're planning a wedding, graduation, birthday, baby shower or bridal shower and want something simple, elegant and affordable we're here for you.
There's no need to sweat it out when we can make it all so easy for you.
Get in touch with us today on phone/Whatsapp: 0721771185 or email: [email protected]