Growing up, a farmhouse table was a long standing feature in any home.
The farmhouse table really rode the wave in the 70s, 80s, and even 90s.
In form it was an old wooden dining farmhouse table. Often styled with crochet table mats or full tablecloth.
From the 2000s onward, there was an influx of Chinese imports. Here's where you'd see shiny marble, glass, and rice husks tables in many homes.
But lately the farmhouse table has returned to reclaim its lost glory.
Besides refined wood, it's also made from reclaimed wood. You can now see it not only in homes, offices, and restaurants but event spaces as well.
BUT what's sooo fascinating about it?
It's simple, timeless, versatile, and effortless to style. You can apply it in both low and high seating.
The low seating culture
The low seating culture is prevalent in Asian, Arabian and African cultures.
The Swahili and Somali communities prefer to sit on carpeted floors and eat from a communal tray called 'sinia.'
In Japan, it's known as the Tatami culture, and was adapted from the Chinese. Tatami is a flooring material or mat, that's still used in traditional Japanese-style rooms.
Whatever your style, check out the PHOTOS below to see what appeals to you!
#1. Swahili style low table
These Swahili style low tables from Lucidity are repurposed wood pallets.
The fundi smoothened, then varnished them for a glossy finish. The wood crates complement them.
Additionally, you can adorn the crates with cushions.
The beige giant cushions are an option to the crates.
In this look, decor elements were drawn from the nearby environment for styling.
For example newspapers for chargers, painted stones and wood lanterns for table centerpieces.
#2. Log style low table
This log style low table is a dream! Rugged on the edges with sturdy legs it's the perfect outdoor party accessory.
Notice how the cow hide rug makes it pop whilst the lace runner completes what's essentially a stunning look.
The thing about this table is that you can use assorted, diverse accessories and you'll still achieve any look you want.
#3. Stocky low table
This stocky low farmhouse table kinda looks like a rhino, right?
It has a nice rustic feel that blends with the environment.
Though the good thing with most farmhouse tables is that they blend into any type of space. For this styling they went for a minimalist look with simple accessories.
#4. The cherry farmhouse table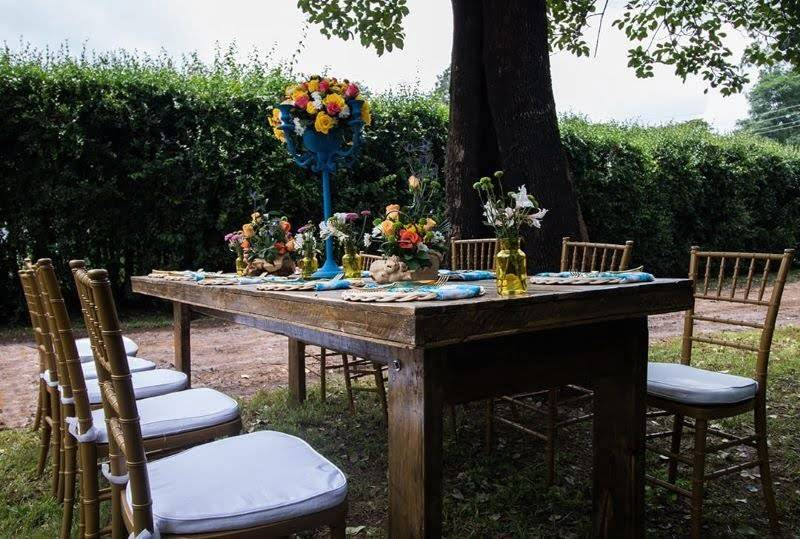 This farmhouse table from Lucidity is a wonderment made locally from reclaimed wood pallets.
It's actual seating capacity is 14 guests but with the new norm the ideal is 6. Follow the link on the image for more PHOTOS on this look.
Essentially, it's simple to set up and versatile. It's perfect for this season and can be transformed fantastically to any style you desire. The complementary gold chiavaris are from Wedding by KwetuKulture
#5. The rugged farmhouse table
It's 2020 and some of those risque styles we see on social media are POSSIBLE!
You can't help but love the washed out look on this farmhouse table's legs.
The reclaimed look on the table, the chairs and wine bottles is superb. In fact the mismatched chairs give it an extra edgy look.
#6. Bamboo farmhouse table
See those bamboo legs and how they deliver a simple and functional rustic style?
That's the rustic appeal –natural, warm and straightforward.
Then the spider leg candelabras complete a look that has the kind of energy you need to enjoy a good cosy outdoor party with your family or rafikis.
Frequently asked questions?
1. What makes a table a farmhouse table?
A farmhouse table is distinct for its sturdy wholly wood base and top.
The wood has a rough texture and distressed look to give it an aged finish.
The complete design reflects the look and feel of rural or traditional agricultural farmhouse or architecture.
2. Are farmhouse tables still in style?
Yes, they are.
There's something about the rural farm life (look and feel) that holds a wide appeal especially for informal gatherings like weddings and private parties.
A farmhouse table has a warm, approachable feel that makes a space feel like home.
Contact us
Farmhouse tables are authentic.
This is because they can effortlessly be produced by local fundis, they're cultural and sustainable.
Sometimes the type of design and decor you choose for your event might not be reflective of you or your life.
If you want something that resonates with you and your audience, try and find something cultural or sentimental. Then turn it on its head with mind blowing styling that's indelible and photo worthy!
If you want to switch things up with high or low farmhouse tables seating at your next event, talk to us. We'll work with you to create an incredible set up!