If you want to have relative peace of mind, a complete wedding checklist will knock the hassle from your wedding planning process.
And not just for your wedding, but almost any event.
The thing about wedding planning or any planning for that matter is the level of detail it involves.
There are plenty of intricacies that can slip through the cracks and before you know it, one tiny seemingly inconsequential issue ruins everything.
This detailed guide will take you through the motions of a complete wedding checklist and planner.
How to structure the content in your complete wedding checklist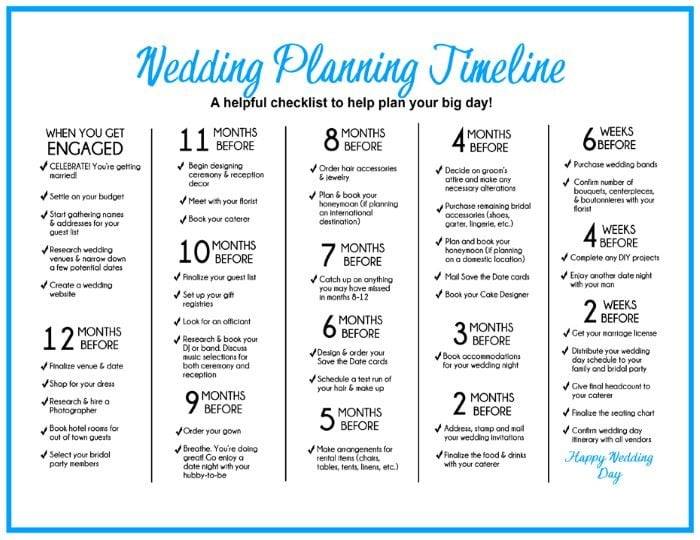 Before we get into it, below are some tips on how to start on your complete wedding checklist and keep it simple.
It's advisable to start the checklist at least six to eight months to the actual date.
Create an outline of the essentials, that is, the absolute must haves for the wedding to happen. These are the marriage licenses, guest list and invitations. Add to that the bridal party wear, venue selection and hire, wedding rings, cake, transport selection and booking, catering services, the minister and more. You can label this under tier one.
Next are the support services for tier one elements. These are vendor selection, quotes sourcing and approvals, honeymoon selection and bookings all which should be in tier two.
And finally, tier three which is for your wellness, personal care and stuff that needs to be wrapped up three months to the nuptials date.
You should also place all the complex stuff in the tier one section.
Then tackle them gradually and monitor constantly till they're done on the due date.
Your guest list will shape your entire event so this should be the first thing to draw up as early as possible.
As you might know, the guest list has traditionally been a high voltage pressure point for the couple and their loved ones.
How to ease the planning process
Of course it's a given that for your guest list,you should start with close family, extended family, close friends and associates.
Decide who needs to be at the wedding by considering your budget and the desired outcome.
Take the sting off you by hiring a skilled event planner to manage the entire process.
People always imagine it's expensive but think of the convenience and consistency.
You need all your wits about you and all the good vibes you can possibly amass during this entire period.
If you start out early things should work out pretty easily.
Together with your event planner, create a vision board by selecting or settling on a theme that you like.
The vision board will ensure that you've identified the look and feel to enable you painstakingly source the required elements and competent vendors.
Also, everything on the vision board should be listed on the checklist and next to each timeline.
For ideas on how to create a vision board, read this article.
If possible, have the entire ceremony in one venue to save on logistics.
Transport is quite an expensive element that can take a huge chunk of your budget so if there's any way to cut back, take the opportunity.
Creative freedom
Give your bridal team creative license.
Listen, everything doesn't have to be matchy match or exactly as you've seen it at another wedding.
Instead, create a distinct style that everyone can plug into and transform in their own way.
Need ideas and tips on how to look good on your special day? Read this article.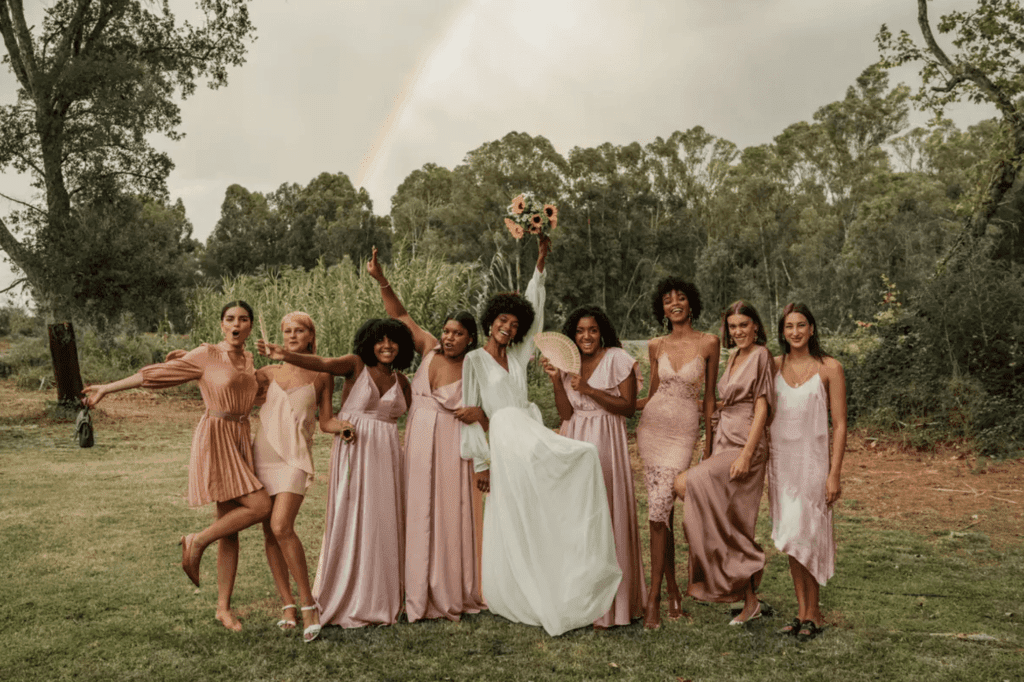 Something else: Review the items on your checklist with what's on your budget breakdown –the budget breakdown is a sheet that captures all vendor costs and keeps tabs to ensure you don't exceed the planned budget.
Do a thorough check to ensure that nothing's left out and that everything's on budget.
The complete wedding checklist is a live document that needs to be updated at least once or twice every week.
Quality control in a complete wedding checklist
One of the most frequently asked questions is how to ensure quality for all the elements listed in the complete wedding checklist.
Well, make your expectations known to the event planner and vendors from the start.
It's the event planner's duty to ensure that your desires are achieved.
More importantly, the event planner will vet all elements personally, taking photos and ensuring the same is captured in vendor contracts.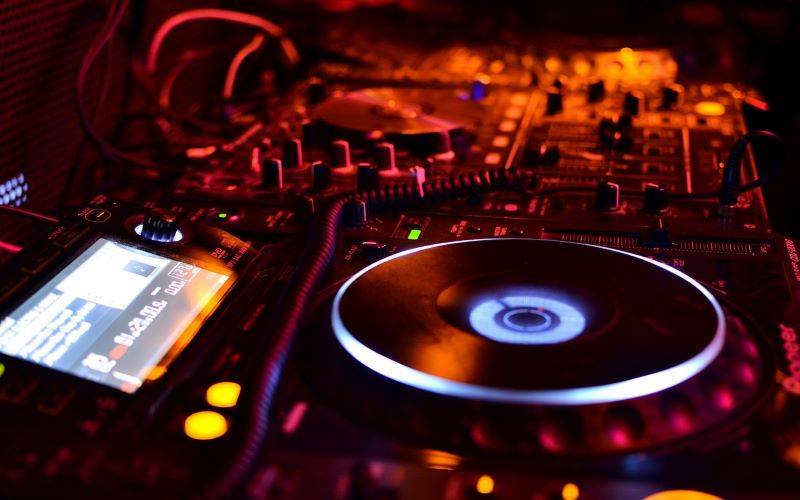 Additionally, there's no harm requesting for a sample of the playlist from the DJ, mock setups from the decorator (share the vision board with them too), tastings from the caterer and if you're using grounds, keep a constant check nearer to the wedding to ensure the grass is well watered and maintained.
If it trains especially heavily, schedule a quick visit to ensure it doesn't flood.
As much as you have an event planner it doesn't mean that you shouldn't recheck stufff.
The rule of thumb here is, to trust but verify.
Elopement weddings
Not your thing? Incidentally there's a burgeoning concept that's actively taking root –elopement weddings.
Traditionally, this type of wedding was construed to mean that the couple had taken off to marry in a bid to defy a certain tradition or expectation.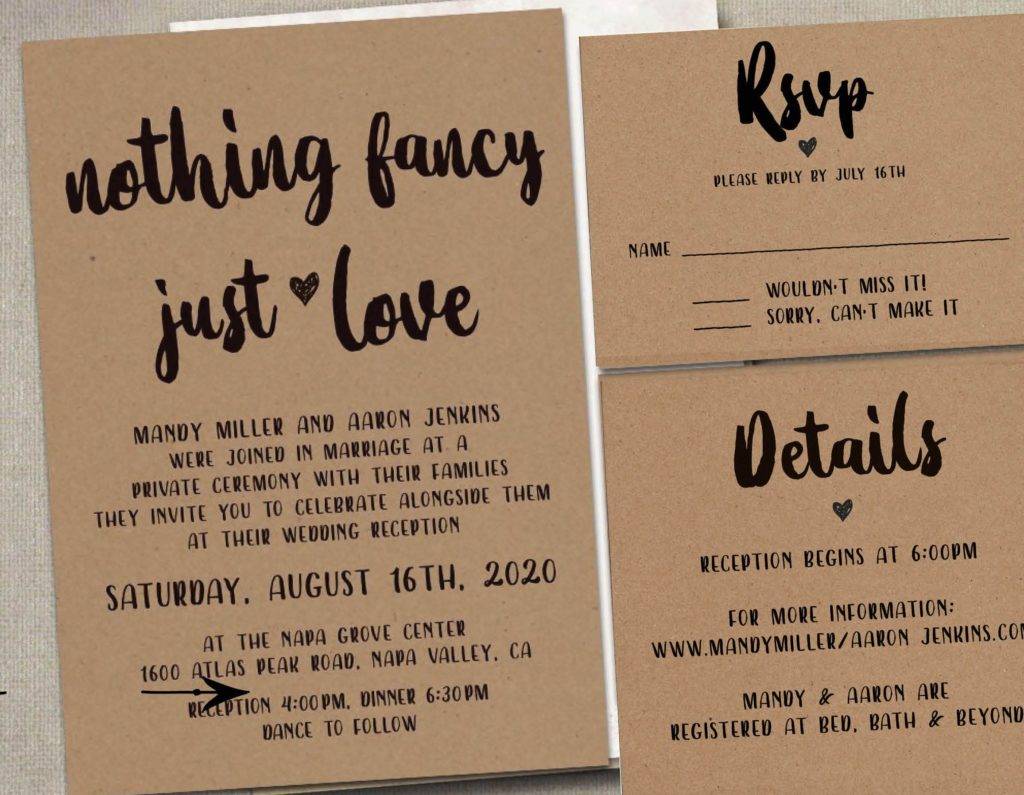 Not so today because an elopement wedding is essentially opting to have an unconventional intimate wedding with just yourselves or a very small circle. It's distinction comes from the sheer audacity and spontaneity.
As a matter of fact, you can opt to have it anywhere you please as long as it's legal and you have the means.
With an elopement wedding, you can ditch the headache of intricate planning because most times the only people present are you, your spouse, the officiant, photographer or videographer, as simple as that!
Still, you need a complete wedding checklist to ensure you don't miss out a thing.
Not surprisingly, this format widely appeals to couples that don't want to incur seemingly outrageous debt.
They would instead prefer to spend on memorable experiences at the honeymoon phase traveling to exciting destinations.
Frequently asked questions
1. What is the checklist for a wedding?
A wedding checklist is a detailed breakdown of each task to be accomplished.
It captures all details from venue sourcing, decor, entertainment, catering to every minute detail you can imagine.
An effective checklist is detailed, precise and clear to everyone at each stage of the planning process.
It serves as a tracker to ensure everything is being attended and nothing falls off.
2. What are the steps to planning your own wedding?
If it falls on you to plan your wedding, the first thing to do is sketch a wedding budget.
Base your budget on critical elements like your gown, groom's and wedding party attire.
Then settle on a guest list to determine key expenses like the venue, decor, catering, photography, entertainment.
Next, book the church minister and licenses.
Don't forget to include grooming for yourself, groom and the wedding party.
3. What is the shortest time you can plan a wedding?
It all depends on how much time you need to issue and confirm invitations. Usually they're sent about a month to a wedding
This also depends on how fast you can whip up a conclusive guests list.
Often it can take about three weeks, at most four depending on the number guests.
So bearing all this factors in mind, it's best to give yourself about two to three months.
Contact us
That marks the end of our article on a complete wedding checklist.
Do you feel sufficiently equipped to plan your wedding with or without a planner?
A complete wedding checklist will ease the pressure, make the planning process and the actual wedding event all the more pleasurable.
If you've got questions on some of the elements or generally need help with it or even creating a vision board, contact us and will guide you.