Finding wedding suits in Nairobi can be a grueling task but perhaps not as tricky as getting the perfectly made to measure wedding suit for groom.
The good news is that this might be a thing of the past, but ONLY if you make a booking with Quintessence Tailor.
The Quintessence Tailor brand is the brainchild of Nafal Hassani-Mohamed; an investment banker turned bespoke menswear entrepreneur purely for the love of good dress sense.
This wedding suits in Nairobi brand considers itself a premium tailor brand with luxury services.
Premium here means that they provide top-notch clothing due to painstakingly selecting the finest in fabric quality.
This is then followed by expert styling, crafting, cutting, stitching and finishing.
At Lucidity Africa Events, we're event planners in Kenya who work with professionals to ensure you get the best services and products for your special day.
In this article, we take you through the delicate process of delivering impressive wedding suits in Nairobi and all-round sartorial elegance.
Wedding suits in Nairobi: Fabrics selection and craftsmanship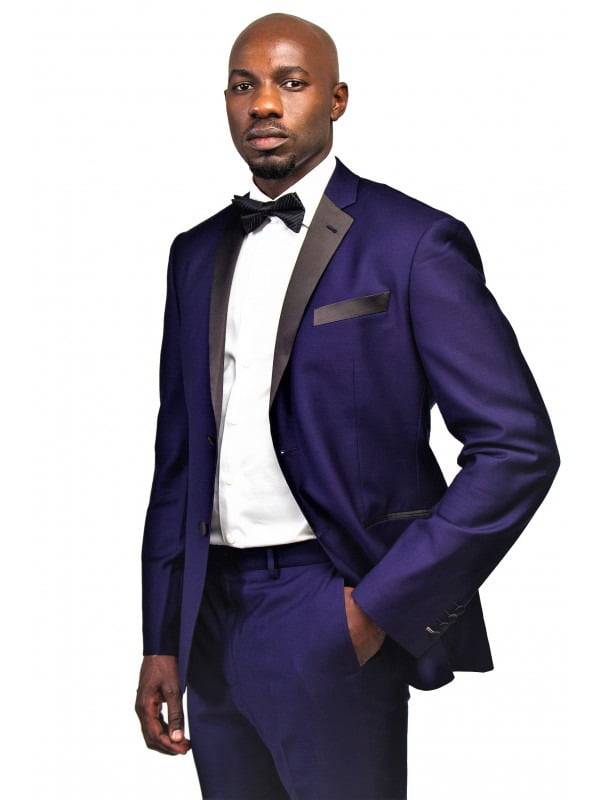 The Quintessence Tailor has partnered with the best European suit cloth houses such as Dormeuil and Holland & Sherry to select suitable fabrics for Africa's temperate climate.
To understand just how first-rate these fabric mills are, Dormeuil is considered shrewd at interpreting modern gentlemen's needs.
Since its inception in 1922, it has gained mastery in satisfying the needs of the most demanding luxury customers like Gucci, Prada, and Chanel.
On the other hand, a bespoke tailored garment in luxury Holland & Sherry cloth is considered a valuable investment and pleasure to wear.
Quintessence dress shirts come from various fabric weaves and textures such as oxford, twill, herringbone, poplin, fil-a-fil, and linen.
This selection of varied fabrics guarantees you a versatile daily choice of business or casual shirts.
In case you're wondering about the choice in styling, rest easy. You're solely in control because your preference(s) dictate the style.
Lastly, the Quintessence shoes are 100% handcrafted with leather sourced from the most renowned tanneries.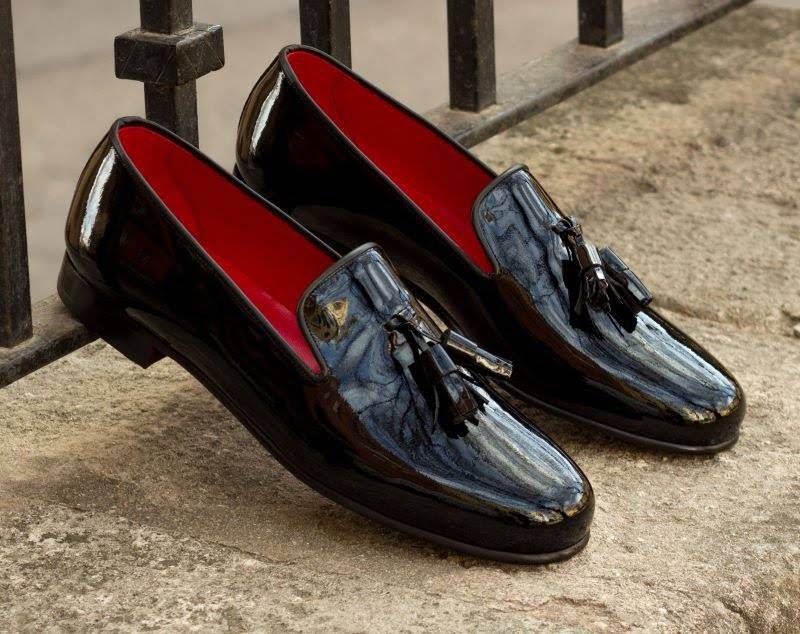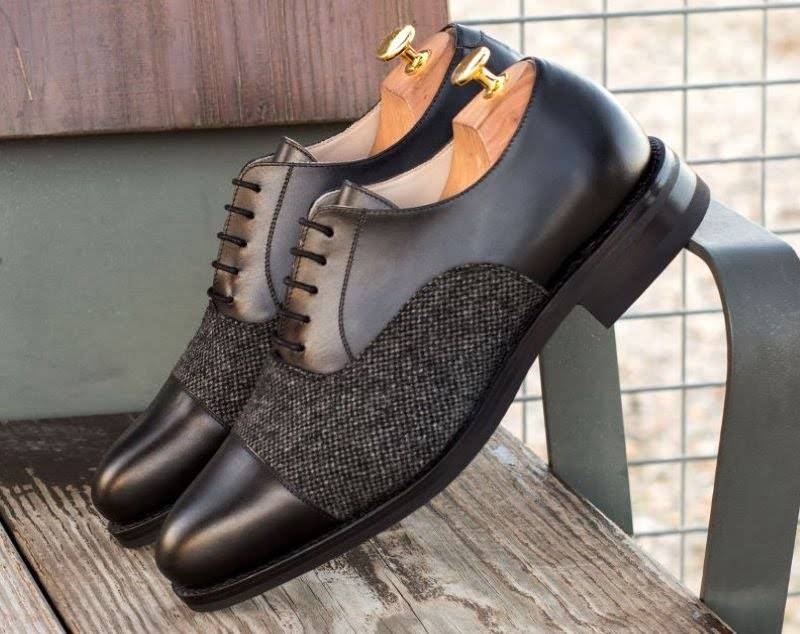 As for the designs, a man has to know his shoes: From oxford, derby, brogue, wingtip, longwing, and chelsea, they have their heritage and purpose.
Wedding suits in Nairobi: What drives this brand?
According to Nafal, Quintessence Tailor wants to be a reputable, proudly African, and leading cross-channel tailor brand.
That's not only a mouthful, but quite an ambitious pursuit for a nascent brand in an unpredictable market.
The conviction is real, though, perhaps informed by the expertise garnered during his banking days.
Quintessence Tailor has the singular intention to deliver an elaborate style for the African gentleman that reflects his lifestyle.
More importantly, the brand understands that money isn't an obvious measure of value.
Instead, the stunning experiential process from the first touch point to the last is what's sought after.
Wedding suits in Nairobi: The latest men's suit designs for a wedding
To win your heart and mind, the brand has a unique proposition. Your special day needs to culminate in the best that life has to offer (besides your bride, of course).
Quintessence Tailor has a complete wedding package.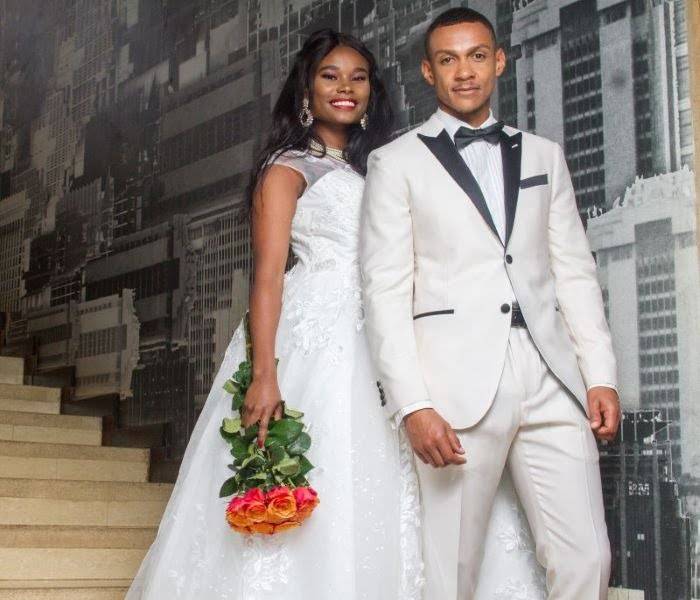 Aside from distinct groom suit ideas, this package includes a collection of lustrous fabrics to select for your tuxedos or suits, dress shirts, ties, bow ties, handkerchief, and shoes.
Imagine the peace of mind that comes with not agonizing whether your suit will fit or arrive on time. Plus, the added assurance of premium tailoring within reach.
Wedding suits in Nairobi: The Quintessence Tailor Experience
To get a fitting with Quintessence, you must reserve a booking. Either at their showroom or your preferred venue.
Their showroom is only accessible to one client at a time on an appointment basis, bearing the required detail level.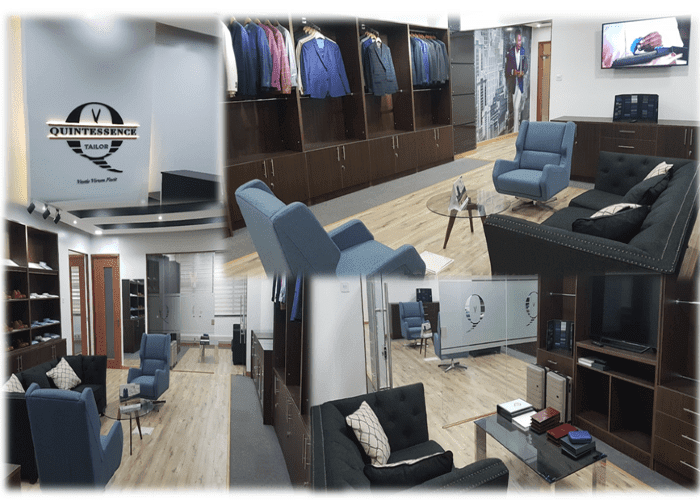 And the showroom is quite impressive and suggestive of a high-end men's boutique on Central London's Savile Row street.
At first glance, what strikes you is the clean, minimalist, and lush interior with a big screen TV and couches.
Next are the surrounding rows of well-arranged custom made shoes, suits, and dress shirts all on display to ease your selection.
The measuring and fitting room is another swish space. Here you'll find swatches of fabrics from which to select.
Whatever you need from fabric, linings, and buttons, and accessories, it's all there.
You'll also need expert advice from Quintessence Tailor's highly skilled personnel who are always at hand to select fabric, lining, and buttons that complement each other.
This selection includes lapel, pocket, and vent choices. Not to forget a monogram (your name or initials) if you desire, for all the three products, suits, dress shirts, and shoes.
Final word
According to Nafal, you should rest easy in the knowledge that they've got an expansive array of exclusive wedding suits in Nairobi for your fulfillment.
Luxury dressing as well is attainable not only on your wedding day but on a daily.
A man should essentially have at least two fitting suits at any one time, a distinct pair of shoes, and refined, understated accessories to boot.
He promises to steer the brand to consistently deliver high-end fitting products for optimal sartorial elegance.
Bet you'll never look at a suit or menswear in general the same way again.
Remember: For your wedding planning, decor and rentals, call/text/Whatsapp us at Lucidity Africa Events us on 0721771185 or email: joan@lucidityafrica.com and we'll revert ASAP.