Afro boho decor is the best option if you don't fancy stand-alone African decor.
Bohemian or boho decor appeals to anyone who loves the unusual or doesn't bend to the conventional decor rules.
Similarly, African decor is exotic and timeless.
It easily stands out due to its authentic decor props and styles that are unlike any other.
Afro boho decor is, therefore, a cross between the two.
It's characteristics include (but aren't limited to) assorted patterns, prints, exotic potted plants, raffia, sisal, and pampas accessories.
Last year, we tried it out at several traditional weddings in Kenya and it worked out quite well.
As you'll see in this article, we've presented Lucidity's interpretation of Afro boho decor with an array of handmade, upcycled, and recycled decor props and styles.
The original bohemians
But before we get into it, here's something to remember: Boho decor doesn't have any rules.
You can create your look of layered patterns without heeding a particular theme or style.
Bohemian style interior design came into being in the 19th century in Paris.
It was inspired by artists, writers, performers, and nomads (gypsies) who believed creativity was worth more than money.
To create this decor trend, they flipped the bird on conventional styles, refused to conform to the norm, and instead unified their respective cultures and ideals to create this new trend.
Characteristics of bohemian decor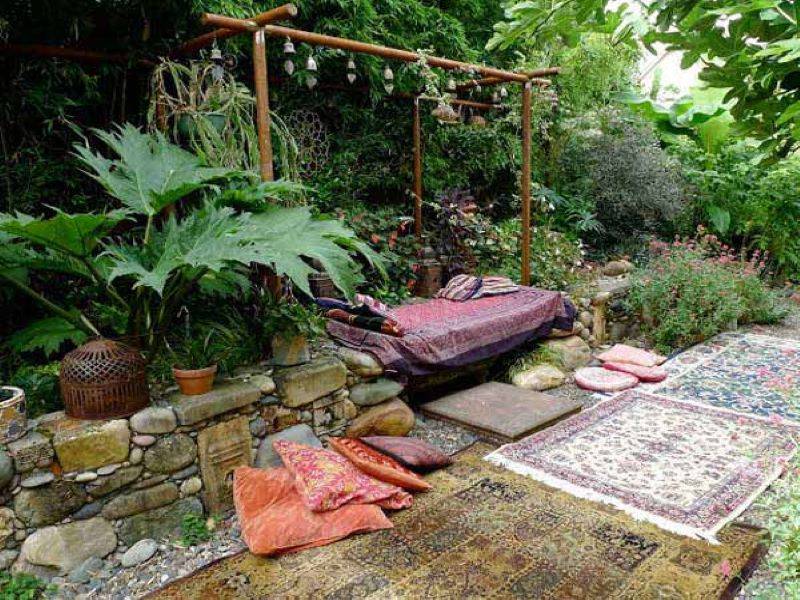 While it doesn't have distinct rules, there are popular applications to boho decor that you can rely on to guide you.
Layering patterns, using different types of lighting, and saturated colors will help you achieve the look for your type of event.
To create your desired Afro boho decor style, your vision board should cover three critical elements which are;
The layout
Your personality or taste will be evident in the minimalism or maximalism of the outcome.
Whether indoor or outdoor, you can use any furnishing, and there's no line drawn on indoor or outdoor furniture; traditional or contemporary, you can use anything.
Another thing is that there's always room for more; you can never have enough.
One of the reasons bohemian decor enjoys frequent reincarnation is the fact that it gives you free rein to create a space you'll love and enjoy without conforming to any standard.
Colors
When it comes to color, this is your chance to incorporate all those 'tribal colors' you thought were gaudy.
If you're a minimalist or too much color doesn't appeal to you, incorporate a neutral base with white or cream (tan).
But if going all out is your intention, use darker tones for the bases and then saturated ones like aqua blue, emerald green, burnt orange, and such to pop.
The colors don't need to complement each other, and the trick to achieving something discernible is to layer, mix and combine them to achieve a unique style.
Accessories and props
Again, there's no limit to what you can use to accessorize your bohemian decor theme.
In Kenya, you can source decor accessories and props from the Maasai Market, various flea markets, craft centers, garden shops, or an online market for handmade crafts Kenya.
In the end, your boho decor arsenal should have a mix of;
Lighting for coziness such as chandeliers and other overhead fixtures; lanterns, candles, and lamps.
Crafts for accessorizing such as tapestries, bottles, paintings, sculptures, family heirlooms, assorted vintage pieces, and much more.
Plants are a central element in boho decor. Hence bringing the outdoors and natural life is critical to this decor trend. Use spider plants, bamboo, Chinese fern, herbs, and any appropriate indoor plants that you can find.
Afro boho decor boosts sustainability
Some people feel that this trend has run its course and should be retired.
But with the pandemic, most people have retreated to their homes. So it seems it'll be here for a while since many events are also home-based.
Furthermore, Boho decor embraces sustainability, wellness, and nature, which are some of the critical factors powering life at present.
People are shunning wastefulness and seeking ways to minimize consumption by embracing recycling (or upcycling), and creating stuff and spaces they enjoy.
Based on these observations, here's our version of Afro boho decor with a fair amount of locally done accessories, furnishings, and furniture.
Our version is pared down because we're more inclined to minimalism, but don't limit yourself to this as long as the decor style you choose makes you happy because ultimately, that's what matters.
1. Kenya vintage
For this version of the Afro boho decor theme which was labelled Kenyan vintage, we used the following;
Recycled wood pallete tables
A vintage kettle with accompanying cups
Recycled wine bottles as candle holders
Boho leaves
A dart board
A ciondo (woven basket)
Bobo benches adorned with ankara fabric (to bring out the patterns)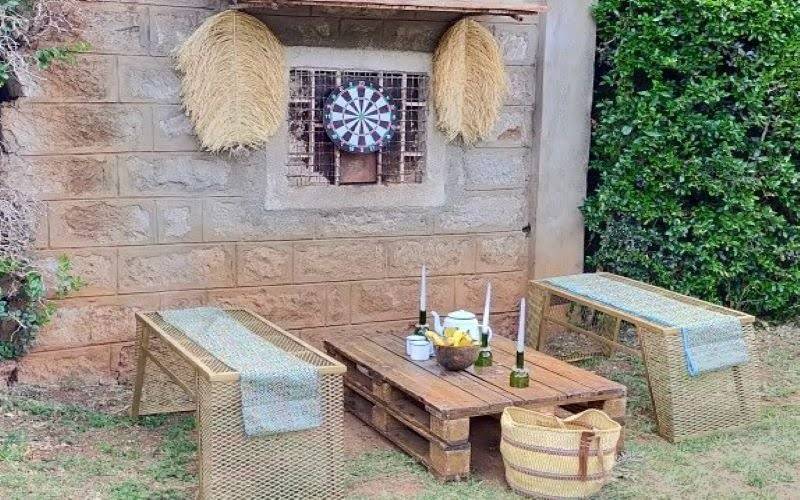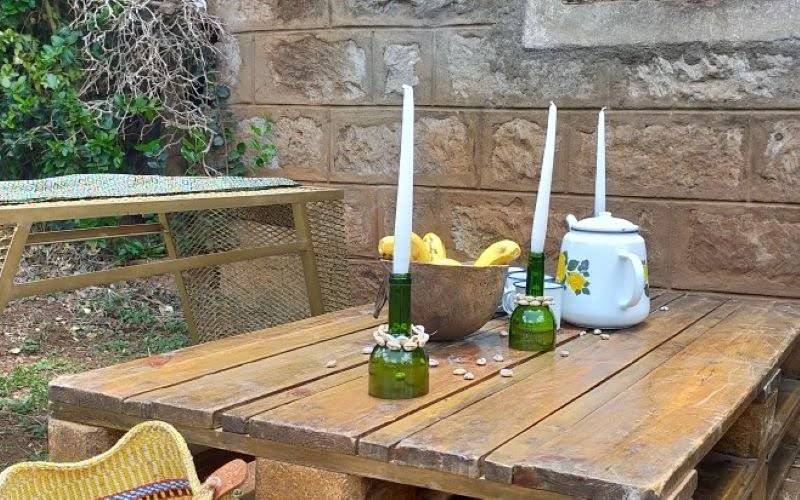 2. Kenya boho chic
We termed this look Afro boho chic and the elements used are;
Recycled bike wheel chandelier
Shield with bogolan print
Clear dior chairs wrapped with fibre
Recycled wood pallete crate
Caramel pouf
Boho placemat
Spider plant
Cowrie shells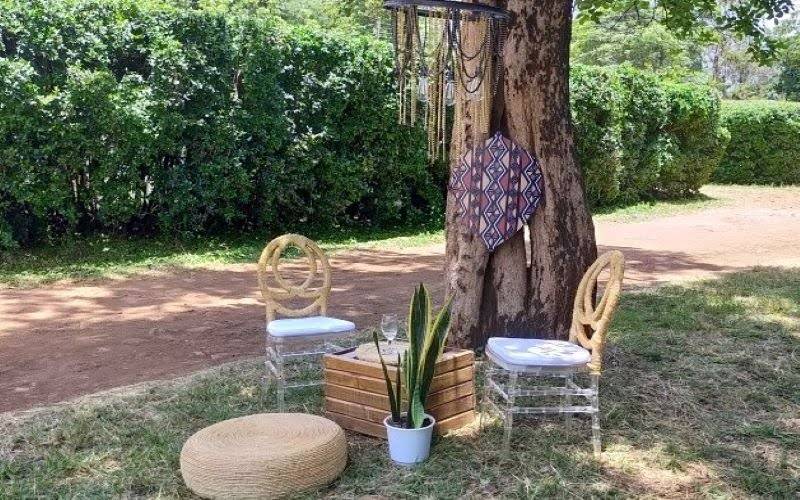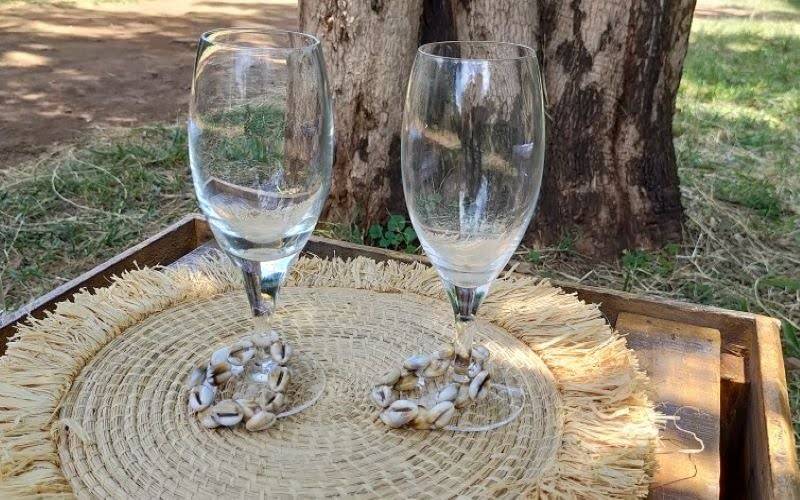 3. Assorted afro boho accessories
In 2019, one of our artisans created this goat skull mask from a piece of waste log and since then, we've created plenty that we'll continue to showcase at Lucidity Artisanals.
We used it at a past event to adorn the entry, much to the client's delight.
Whatever Afro boho decor theme you settle on, we'll customize the decor accessories and props.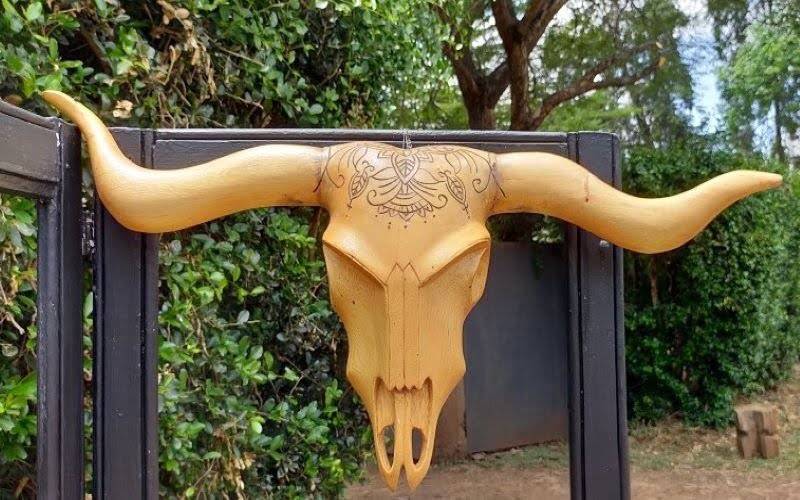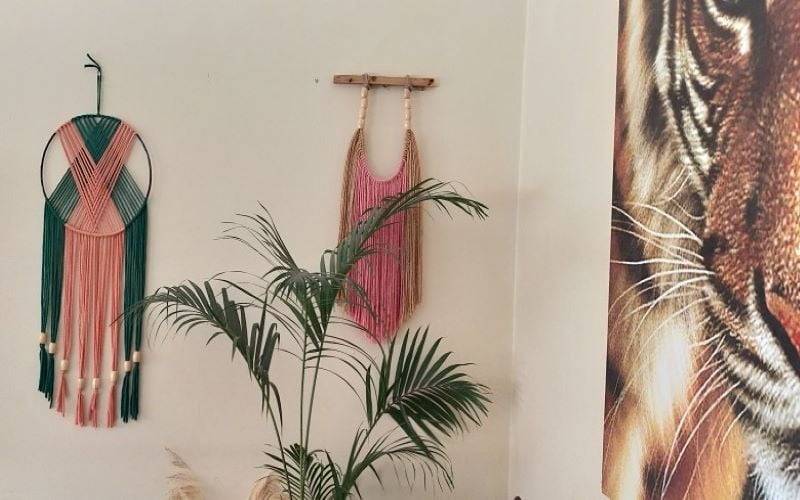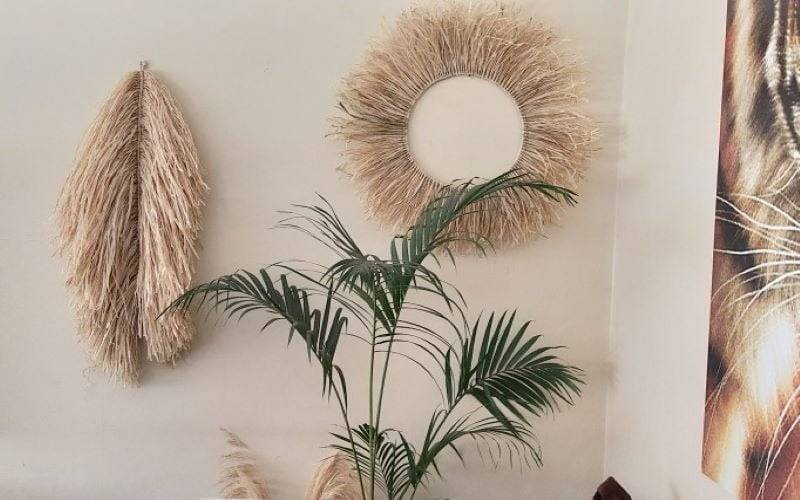 Frequently asked questions
1. What is Afro Boho?
Afro Boho is decor that ascribes to the Bohemian aesthetic of layered patterns, assorted lighting and natural elements like plants. However it goes further by incorporating African decor themes and props such as bold prints, patterns, art and crafts. Think of African masks, carved log stools, mudcloth and handwoven baskets and wall hangings.
2. What defines Bohemian style?
Bohemians were free spirits, unrestricted by common rules and who believed creativity was worth more than money. Hence Bohemian style depicts their lifestyle. It's distinct for its lack of structure or adherence to interior design rules. With this style, anything goes which includes your application of colors, patterns, textures, plants and decor accessories from anywhere in the world.
3. Is Boho a culture?
Yes it is. For most people it's a way of life, representing their perspective and approach to life. In a world full of rules and convention, Boho comes as a relief. It allows you to embrace yourself, live freely, unrestricted and with everything you cherish.
Contact us
Afro boho decor is inexhaustible because of it's versatility.
Don't limit yourself to Africa decor styles that only focus on certain styles.
Africa is rich in breathtaking landscapes, plant life, artisanal crafts and so much more.
Plus how do you plan on utilizing your waste? Turn it into something beautiful and useful with a localized touch.
If you need to hire afro boho decor for an event, call/text/Whatsapp us on 0721771185 or email; joan@lucidityafrica.com