If you're looking for event table decor ideas, we'll show you some incredible ones to try with our rustic tables.
Rustic tables were a long standing feature in many homes in Kenya in the 70s, 80s, and even 90s.
In design, they were wooden dining tables, often styled with crochet table mats or full tablecloth.
From the 2000s onward, there was an influx of Chinese imports of shiny marble, glass, or rice husks tables.
But lately rustic tables have returned to reclaim their lost glory, maybe because you can also make them from reclaimed wood.
Besides homes and restaurants, they're now popular at events too.
In this article, we share event table decor ideas to try with your rustic table.
Event table decor ideas for your rustic table
#1. Natural table decorations
These low rustic tables from Lucidity are repurposed wood pallets.
For the layout, you can adorn the space around them with cushions and wood crates for seating.
For the event table decor ideas, we sourced natural elements from the nearby environment.
For example, we used discarded newspapers for chargers, then painted stones and wood lanterns for table centerpieces.
#2. Mud cloth runner
This rustic table from Lucidity is made from reclaimed wood palettes.
The brown mud cloth runner gives one of the event table decor ideas to enhance its woody varnished look with what's essentially a stunning look.
The thing about this rustic table is that you can use assorted, diverse accessories and you'll still achieve any look you want.
#3. Assorted event table decor ideas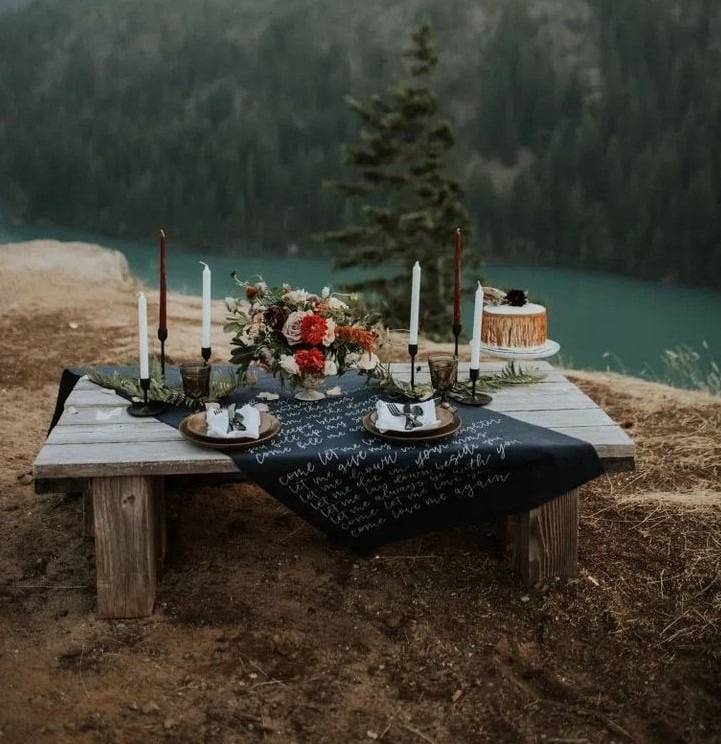 This stocky low rustic table has a unique appeal.
It has a nice rustic feel that blends with the environment.
Though the good thing with most rustic tables is that they blend into any type of space.
For your event table decor ideas, see how the brass candle stands, chalk board runner and florals deliver an elegant minimalist look.
#4. Boho placemats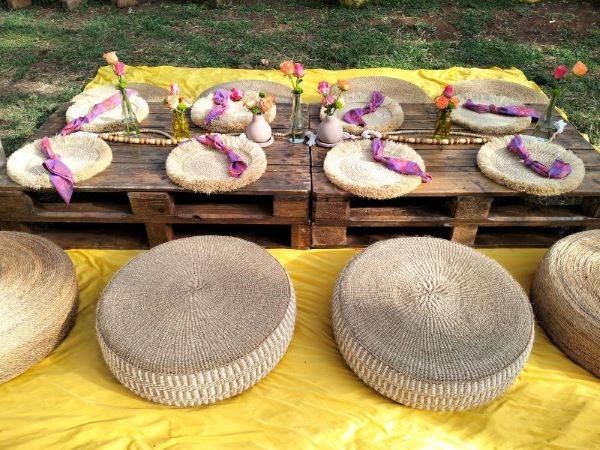 How about using boho placemats as another option for your event table decor ideas?
They're quite versatile and appealing.
You'll find that they're perfect for any season and can be transformed fantastically to suit any style you desire.
#5. Tall candelabras
Tall candelabras are also event table decor ideas to consider for your rustic table.
They're natural, warm and straightforward and that's their appeal.
We have silver and ivory candelabras for hire to complement this style.
Frequently asked questions?
1. What are decorations on tables called?
The most focal table decoration is called a centrepiece which can either be a floral arrangement, candelabra or other outstanding decoration. Other table decorations include napkins, place mats, charger plates or runners.
2. How can I decorate table?
You can easily decorate your table with a number of beautiful items like table linens, floral vases, table mats, gourds and much more. Depending on the occasion, carefully choose the best colors for the event and if possible a suitable theme.
3. Where can I hire rustic tables in Nairobi?
At Lucidity, we have the best rustic farmhouse tables for hire in Nairobi. They're made of reclaimed wood to give them the finest aged look and are big enough to hold 8 – 14 guests.
Contact us
As you can see there are tons of event table decor ideas for rustic tables.
Rustic tables tend to be the best choice for feasting because they're cultural, sustainable and eternally stylish.
To hire a rustic table for your next event, call/text/Whatsapp us on 0721771185 or email: [email protected].