Don't you just love it when you get the chance to do a floral wall for an event?
This past week, we got the chance to create an artificial flower wall for McKinsey and Company Kenya.
They wanted a simple, fun cocktail for about 50 of their female clients to celebrate International Women's Day at their office building.
The main idea was to do a floral wall with accompanying props displaying slogans from this year and previous years.
In this article, we share how to create an artificial flower wall with a metal frame and decor props.
How to do a floral wall: How to make an artificial flower wall
It's interesting how the floral wall trend seems to be never-ending.
We reckon it's probably because it's a simple, elegant way to style photos.
Guests at an event tend to share photos on multiple platforms where tons of people have access.
Corporates favor this trend because it's a hassle free and affordable way to create brand visibility and awareness.
Even in the absence of a logo, you can always bet there will be mentions of your brand through hashtags.
That said, here are the steps we took to do the floral wall.
#1. Choose a wall to do a floral wall
We first did a site visit to get an idea of the best place to position the floral wall.
We settled on a wall in the main reception area on the client's recommendation.
However, the wall had a white marble finish, meaning we'd need to consider its appearance in the photos.
#2. Settle on a frame design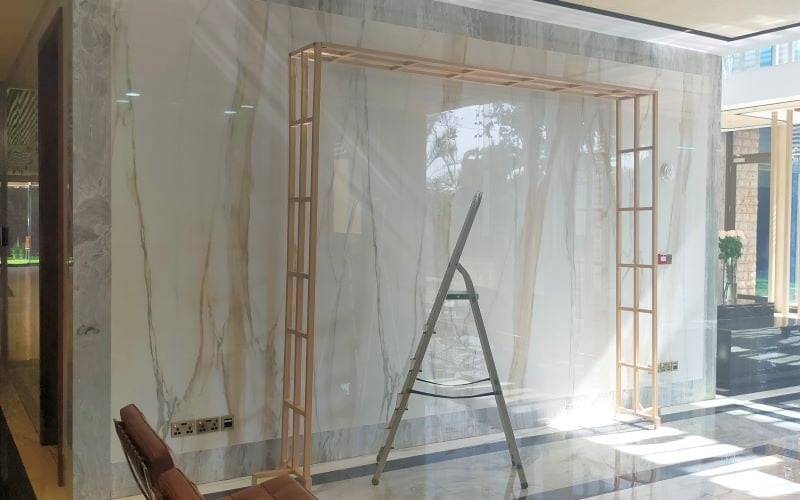 We then settled on a metal frame with a length of 3m and a height of about 2.5m.
It was essential to carefully consider the height because we didn't want anyone towering over the floral wall.
We were lucky to have recently commissioned some metal frames in the perfect dimensions, so they came in handy.
What's more, we'd already painted them in a nude hue, so there was no worrying about their look and feel, especially because the event was just in five days!
#3. Agree on a suitable theme for your floral wall
Being a women's event, the client wanted something floral and feminine.
She also wanted some subtle lighting and props to enhance it.
So the first thing we did was research the best color palette.
Mauve, purple, blue, and a bit of yellow are the hues we contemplated.
Based on availability, we settled on mauve, purple, some blue, and white flowers on a background of lots of greenery.
Finally agreed, this was the outcome in pictures.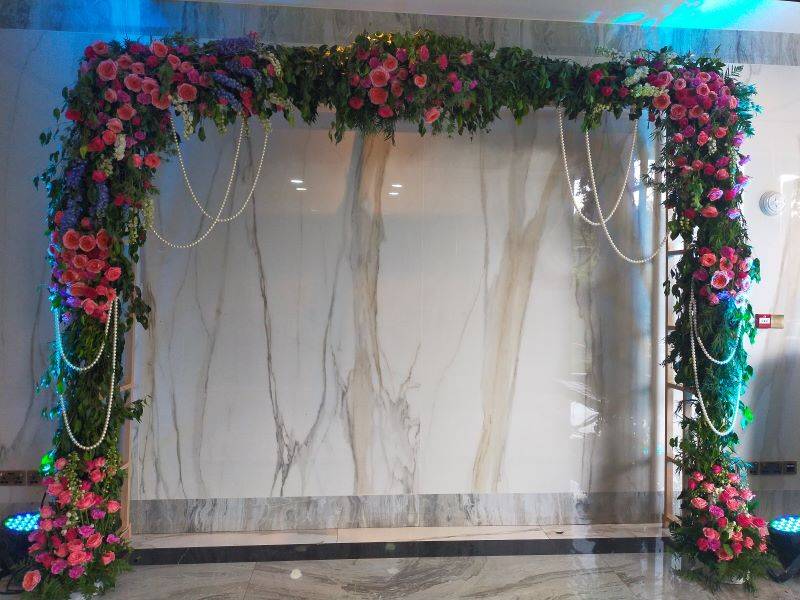 We added some faux pearl bead accessories to enhance femininity and some mood lighting to enhance the overall look.
Creating the handheld props
To complete the theme, we required handheld props to go with the floral wall.
The client had a selection of 14 slogans from this year and past years.
We worked with John, our regular graphic designer to create exciting designs for each prop, print and cut them out.
Below are the pieces; aren't they superb?
Lessons learned: There was a minor glitch since sticky tape was used to secure the handles for easy delivery.
This messed up some of the handles, but luckily they still got the job done.
Frequently asked Questions
1. What is a flower wall?
A flower wall or floral wall is a wooden or metal frame decorated with flowers for use as a decorative stand, signage, or photo backdrop. Flower walls tend to be popular at corporate events, weddings, birthdays, baby showers, and graduation parties.
2. How much do floral backdrops cost?
The cost of floral backdrops depends on the design concept, type of flowers, flower detailing, frame size, and labor. Just to give you an idea, we typically charge between Kshs. 2,000 per square meter for a basic design to Kshs. 3,500 per square meter for a frame structure of 7.5 square meters.
3. What size are flower walls?
The best size for a flower wall falls between 2m x 2m to 3m x 3m. Our floral wall frames have standard dimensions of 3m x 2.5m. To determine the size of your flower wall, you need to have details like; the maximum number of people expected to stand in front of it and the general size of the space you'll place it.
Contact us
That pretty much sums up our approach on how to do a floral wall.
It's pretty easy when you have a solid plan and materials.
If you need ideas for your floral wall, decor props or any event decor talk to us, and we'll help you create something incredible for your event.
Call/text/Whatsapp us on 0721771185 or email: [email protected]