Picnics in Nairobi have become quite a popular way for friends and family to get together outdoors over food, drinks, and good music.
To help you achieve a beautiful picnic set-up, we've got a fantastic picnic decorations hire inventory.
It features wooden picnic tables for hire, cushions, place mats, napkins, table runners, signage and more.
In this article, we'll present some of our best picnic decor ideas in Nairobi to consider for your next shindig.
How to decorate your picnics in Nairobi
1. Acapulco chairs for your picnics in Nairobi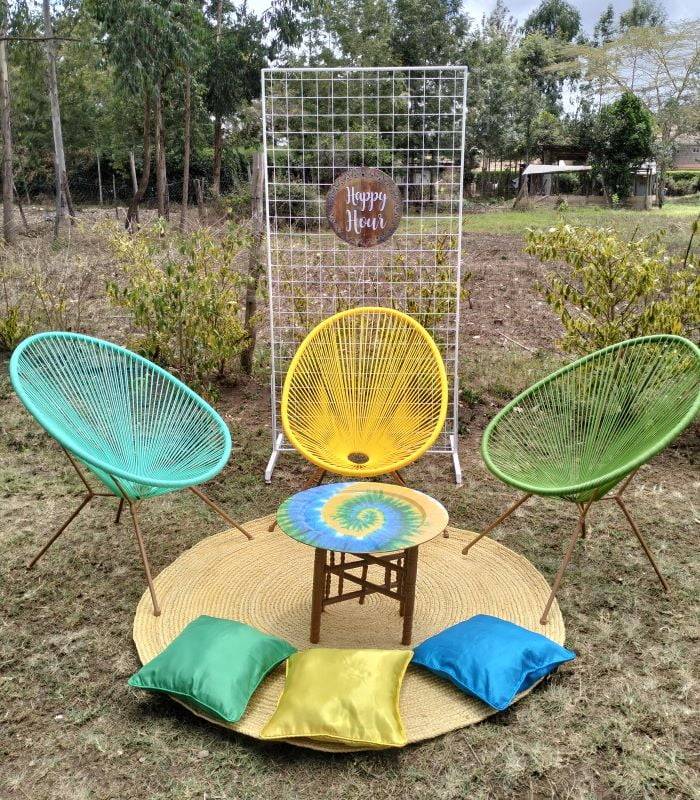 If you don't want low seating, we have extremely comfortable Acapulco chairs that come in yellow, aqua blue, and olive green.
Whatever your color scheme, we'll ensure the colors complement each other.
2. Bobo benches for picnics in Nairobi decor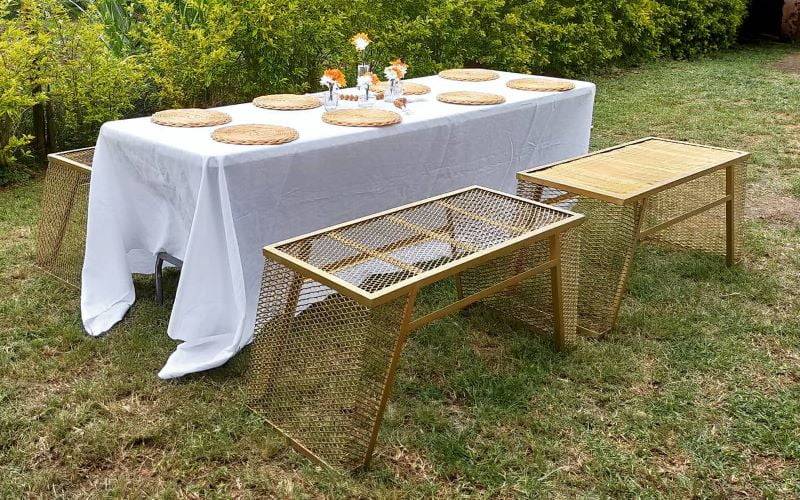 If instead of Acapulco chairs you'd like to sit on a rectangle table, no sweat.
Here's another option we present that comes with the bobo benches that come with an option of cushions or not.
3. Caramel Pouffes for your picnic party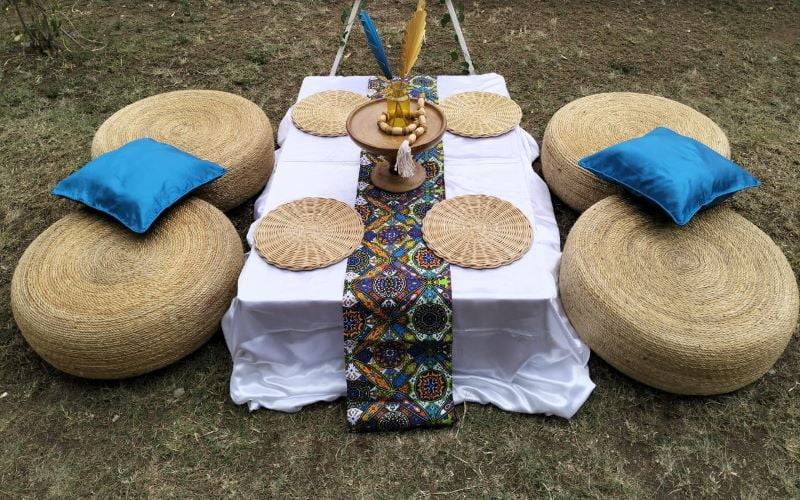 Want superb and comfy floor furniture for any picnic party? Consider caramel pouffes.
They come in a caramel color hence the name which makes color pairing pretty easy.
4. Elaborate table decor for your picnic birthday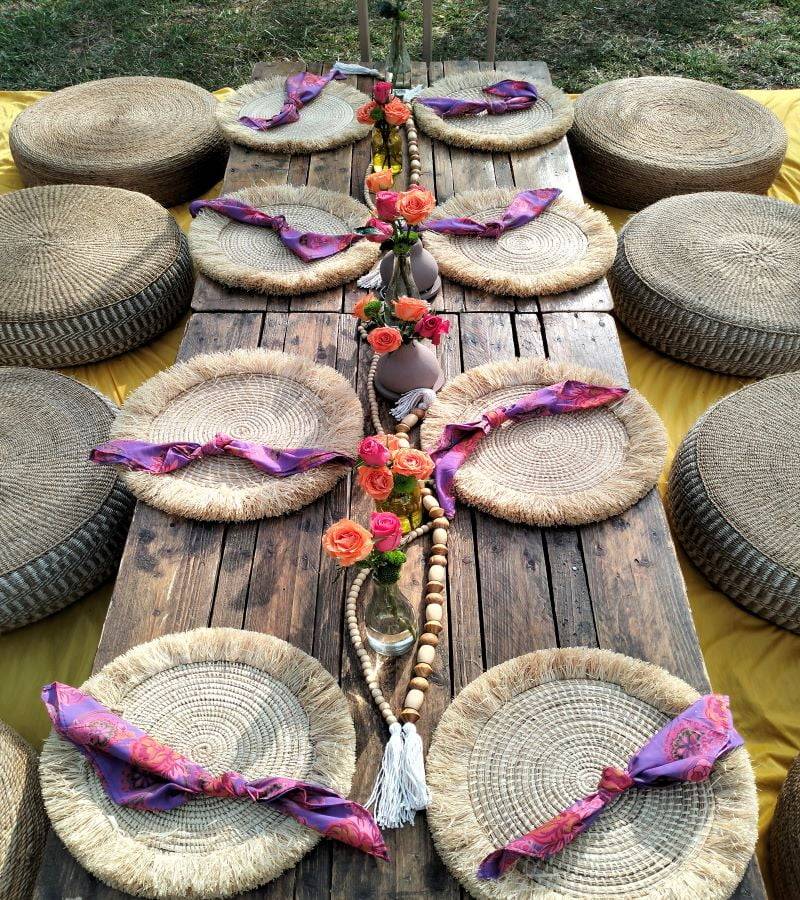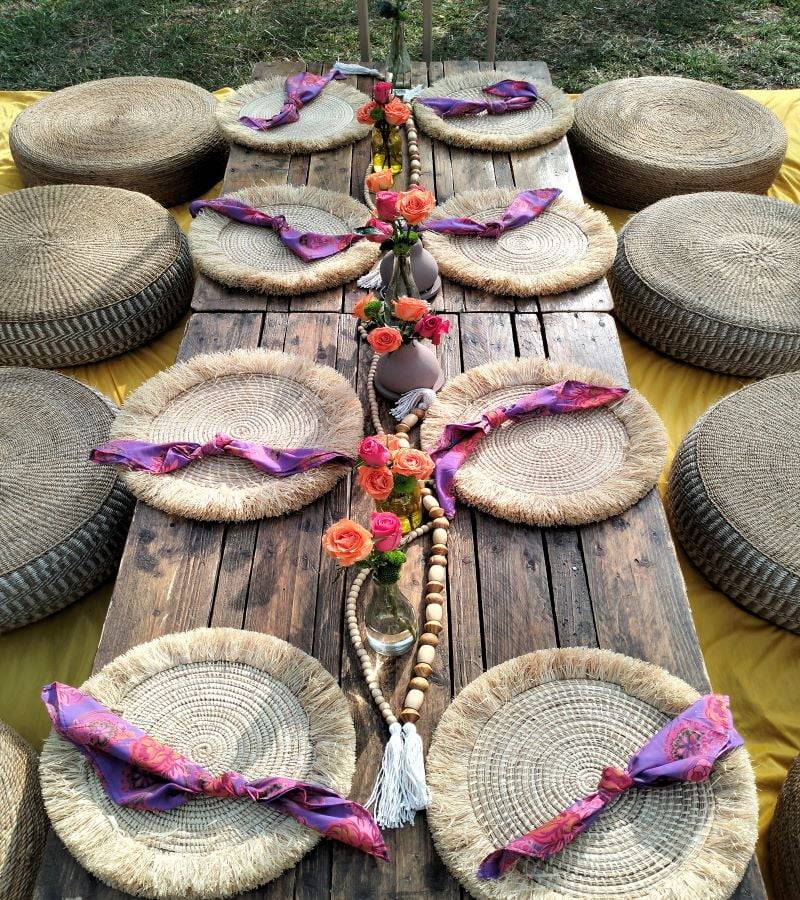 The best picnic lays out a feast and what better way to enhance this offering than with incredible table decor props? They include placemats, garlands beads, table runners and napkins.
5. Picnic photoshoot ideas in Nairobi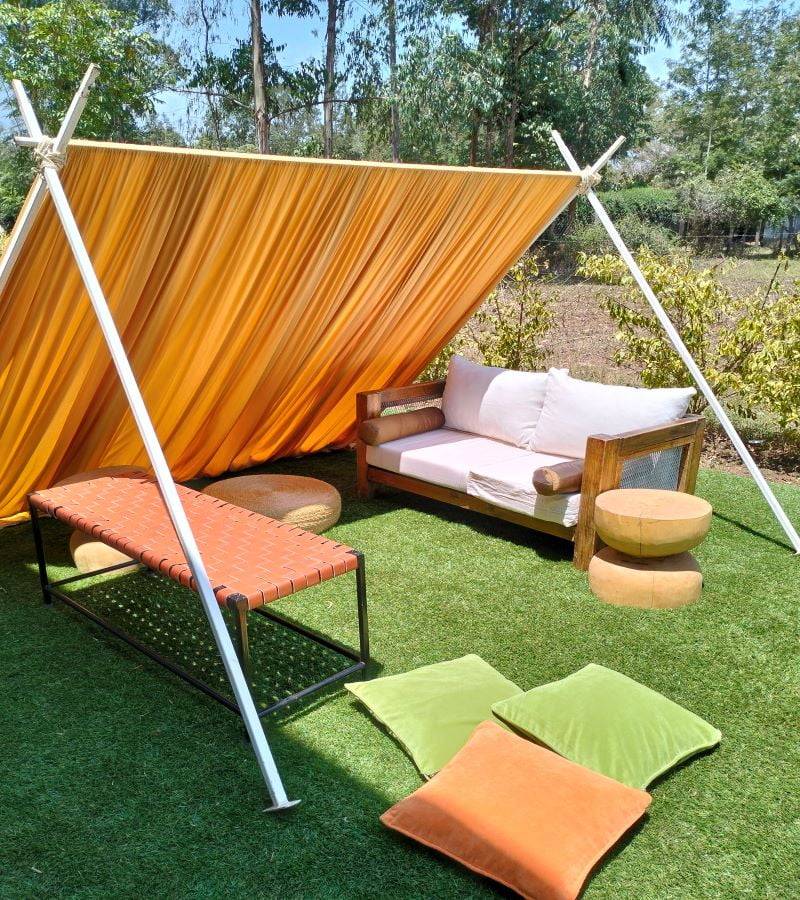 What if you want a picnic photoshoot? We've got tons of backdrop ideas to make your photos pop and worthy of the memories you want to create.
What's more we can match the photo backdrop or setting to your preferred theme or color scheme.
Lux picnics Kenya packages
You'll be glad to know we have luxury picnic packages to ensure you get the best value for money.
Our lux picnics Kenya packages consist of a themed photo wall, tables, chairs/cushions and decor.
It covers groups of 10, 20 and 40 guests for any type of celebration; birthday, chama meeting, photoshoot or backyard party.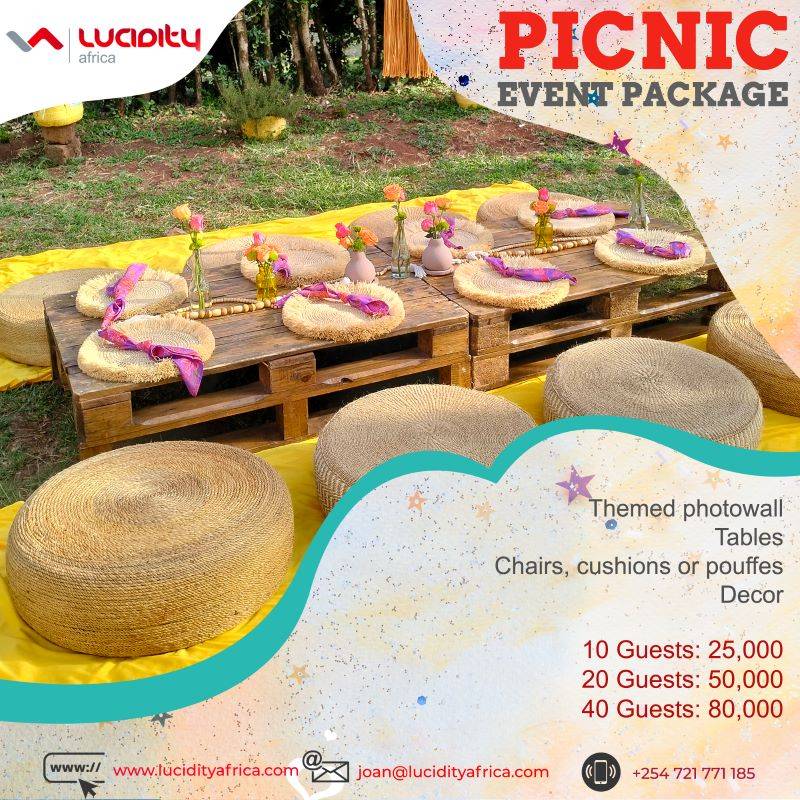 Frequently asked questions
1. What is a good picnic theme?
Any theme is good as long as it's easy to apply to your preferred layout. Some of our favorite picnic themes include garden party, Kenya boho, beach and happy hour.
2. How do you make an elegant picnic?
It all depends on your choice of picnic site, picnic furniture and decorations. The type of food, layout and serving style will all determine how elegant your picnic turns out.
3. What makes a successful picnic?
Food variety, a nice picnic site and lots of fun and games, that's it. Elegant decor and a theme help to add some spice too, so consider that when planning a picnic party.
Contact us
Hope you now have some ideas on how to decorate your picnics in Nairobi.
We have assorted decor and picnic furniture for hire to deliver the desired look for your picnic party.
We're a picnic setup company in Nairobi, you can count on to deliver exceptional event planning, decor and picnic rentals services.
Call/ Whatsapp us on 0721771185 or email: joan@lucidityafrica.com, we'll revert ASAP.