Wondering how to serve cocktails at a party?
You'll need expert mixology event services to ensure success.
We spoke about the intricacies of these services with an incredible master mixologist from Mauritius you absolutely have to meet.
But before you do, let's take a small detour, shall we?
It's a universal truth that a proper bar and beverage event plan seals the life of any party or celebration.
The menu should have assorted drinks, not just beers, wines and spirits, but a clever mix of cocktails (and mocktails) too.
At Lucidity Africa Events, we're event planners in Nairobi who work with professionals to ensure you get the best services and products for your event.
In this article, we focus on everything you need to know on how to serve cocktails at a party.
What is a cocktail?
A cocktail is simply a mixed drink. It's a distinct well-iced drink made up of a base liquor and mixed with flavoring and/or sweetening ingredients. Mixing cocktails may seem easy, but it needs certain levels of expertise due to the precision required to pair the liquors with the ingredients.
How to serve cocktails at a party: The mixologist vs. bartende
In bar parlance, it's widely accepted that a mixologist:
a) Creates fabulous cocktails using sheer ingenuity or existing ingredients to excite clients' taste palates.
b) Solely focuses on delivering compelling drinking experiences.
c) Has acquired knowledge to continuously improve the bar experience.
d) Continually explores and creates new memorable experiences.
Some mixologists still work behind the bar while others take on purely consulting roles with distilling companies to promote products at events.
A bartender can be a mixologist, although their work is predominantly at bar counter management.
They're involved in stock-taking/management, cash handling, managing several orders and many other operational roles.
How to serve cocktails at a party: Meet the Cocktail Guru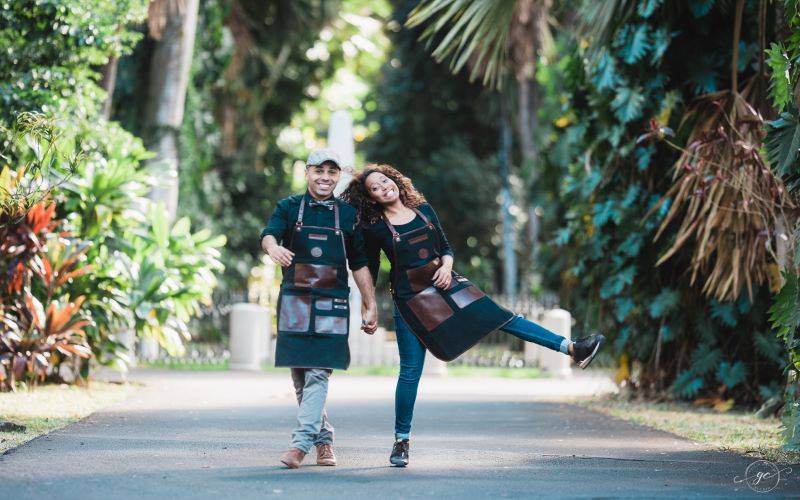 Sharon Balzani from Mauritius, is a professional mixologist and the Pernod Ricard brand ambassador representing the Indian Ocean Islands since 2018.
The Indian Ocean Islands are off Africa's eastern coastline and have been described quite literally as heaven on earth. They're Mauritius, Reunion Island, Seychelles, and Mayotte.
So, how did she get here?
Interestingly, it all emanates from a love story.
Her husband, whom she met in 2011 while he was on a work assignment in Mauritius, often regaled her with vivid descriptions of his' drinking experiences'.
Having just started on the mixology journey, Sharon was quite enthralled with his tales.
And being a very passionate individual, she set about acquainting herself with the knowledge and expertise of mixology to deliver these fantastic experiences herself.
Through sheer dint of hard work, she had already started out as a mixologist about 8 years ago in Hong Kong.
Gone on to participate in a couple of renowned competitions before working as a brand manager for Universal Exports (not the James Bond one), although how cool would it be to mix a Martini cocktail for Mr. Bond himself (LoL!).
Anyway, she was back in Mauritius' hospitality sector about 5 years ago before taking up the Pernod Ricard project.
Her job as a brand ambassador mainly involves sharing unique experiences and knowledge with consumers. Although, she's got no qualms taking her expertise to any event anywhere in the world.
How to serve cocktails at a party: Planning your bar and beverages service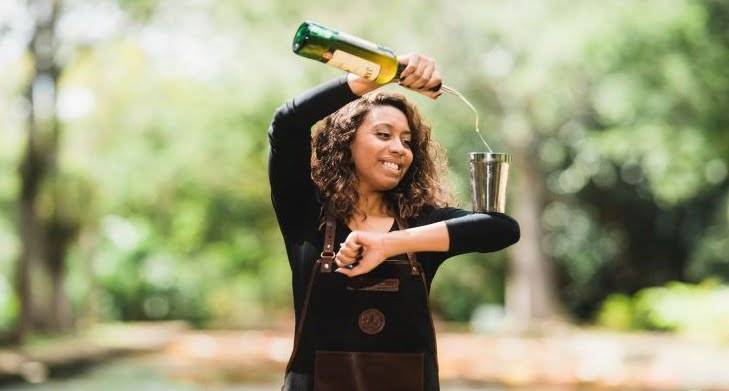 The cocktail guru recommends that while planning the drinks menu for your next event, it's critical to engage a professional mixologist.
Why?
Because unlike non-alcoholic drinks and beverages, alcoholic ones are mood enhancers. Therefore, they must be paired rightly to the occasion at hand.
For instance, what's your event theme? The idea behind the event sets the tone for the drinks menu. From here, you'll determine the age groups, whether it's corporate or social, and what time of day it'll be held.
You can hardly serve beer at a corporate luncheon, but on the other hand, a well-crafted cocktail could deliver the desired subtle kick.
It may seem like a no brainer, but it's actually an intricate detail that requires a delicate balance.
In fact, it's recommended that the caterer and mixologist work closely to complement the food with appropriate drinks.
Of course, the pairing is optional, but if you want to deliver a fabulous all-around experience, this is the way to go.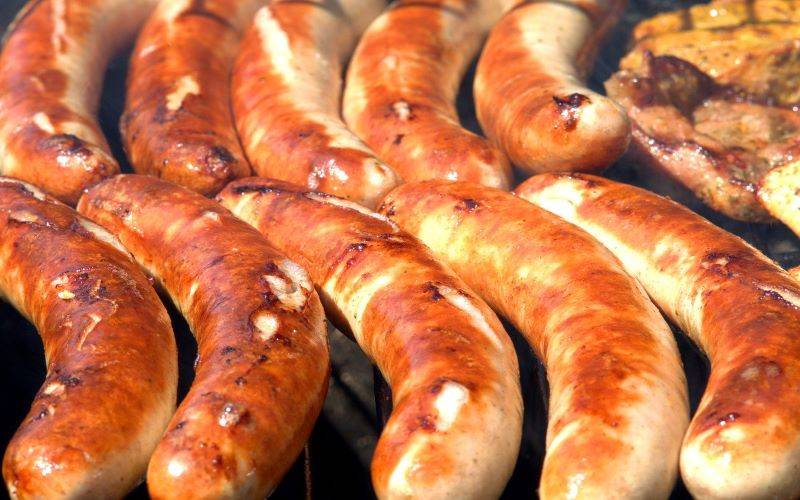 How to serve cocktails at a party: Budgeting for cocktails
Other vital details are on the quality of liquor and ingredients, is it a luxury event where you'll need to order top-shelf products?
Or, are you entertaining on a budget?
If so, what would be the ideal solution without watering down the experience? Also, what would be the best drinks menu for a large crowd?
Additionally, you'll need to craft the bar experience for your guests.
How will they get their drinks?
Do you have the right glasses?
Will there be waiters taking orders, or will there be pop-up bars, mobile counters or even a mobile bar van or truck?
Where will they be located and will they be adequate for all guests attending?
Generally, a well thought out drinks menu and bar experience is a boon to any size event.
There's nothing as gratifying as people remembering how exceptional your party was. That is, how well executed the drinks and delivery process were.
How to serve cocktails at a party: Creating good vibes
Sharon describes the Mauritius event scene as relatively small but gradually evolving.
Mauritians and the other island people enjoy a good party and always lookout for new and exciting vibes.
How does she ensure that she maintains a fantastic vibe for her clients?
By always staying ahead of the global trend curve, being innovative with local ingredients, and having the most current tools, ingredients, and techniques.
Sharon revels in simplicity; too much frivolity, in her view, lacks authenticity.
Hence, her go-to drink when she's not being experimental is a Jameson Ginger and Lime, which, according to her, is a perfectly balanced and refreshing drink.
Nevertheless, the trick to it isn't just the simplicity, the cocktail guru emphasizes that using the right ginger ale and flavorful lime makes a huge difference.
All in all, there's one misconception she'd like to change about cocktails and the cocktail art is that it's easy and anyone can do it.
Not so at all.
How to serve cocktails at a party: The art of mixology
Mixology is a skillful art based on knowledge and constant practice.
Due to these skills, Sharon has been on various assignments in East Africa and Europe.
Her favorite food? Apparently, Mauritius doesn't have a national dish.
Instead, there's a variety of creole dishes with her fave being a plate of flavored steamed rice with a one-pot kidney beans, creole sausage, smoked pork accompanied by chili coconut chutney, tomato and coriander salad. Sounds yummy!
Her hopes for the future are that the local bar community receives more recognition than it currently does.
Specifically, there should be a significant investment in the bartenders and waiters who are really effective salespeople contributing vastly to the bottom line and growth of outlets.
They should be well rewarded, receive medical cover, training and other valuable perks to motivate and ensure their career growth.
How to serve cocktails at a party: Essential cocktail ingredients for your party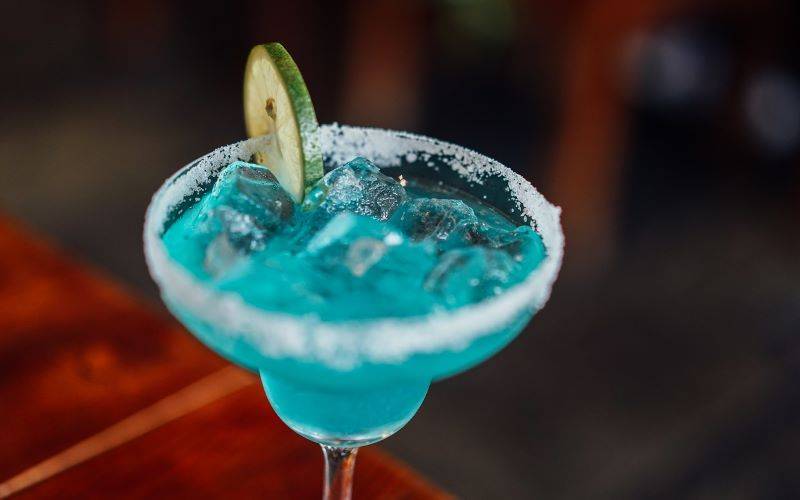 a) Ice: To chill, dilute, or fill up the glass.
b) Liquors: To give character or a kick to the final results. Examples are gin, rum, vodka, cognac, tequila, liqueurs, whisky, wine, and beer.
c) Juices: To effectively give flavor, color, texture, and aroma.
d) Dairy products: To provide texture and flavor as well. Examples are milk, eggs, cream, chocolate
e) Carbonated drinks: To give flavor, texture, and aroma. Examples are tonic, soda water and ginger ale.
f) Syrups: To enhance the flavor and aroma. Examples are maple syrup, molasses, agava nectar, and honey.
g) Fruits and garnishes: To add appeal and aroma.
Final word
Wow, what a lesson on how to serve cocktails at a party.
It's evident that buying a set of drinks and waiting for your guests just doesn't cut it.
Sharon Balzani is an expert at what she does and you can take her word for it on how to create the best event bar services.
Call/text/Whatsapp us on 0721771185 or email: joan@lucidityafrica.com for all your event planning, event decor and event rental needs.
We also have excellent mobile bars for hire that you can use at any type of event.