The wedding stage decorations trend has continued to soar in Kenya since it hit about five years ago.
But what makes it so popular?
For one, the wedding stage is a valuable decoration prop that serves as the primary focal point to amplify the bride and groom's visibility.
Secondly, it enhances the event space's ambiance, decor, and photos.
As event decorators in Nairobi, we'd like to help you get the best decor ideas for your special day.
Hence the reason we've shared the fancy wedding stage decorations designs below for your consideration in 2023.
But first, let's look at…
Stage wedding decorations in Kenya: How to create the best wedding decor for your stage
1. Create a theme for your stage decorations
Choose a theme on which to anchor your wedding stage decorations. The theme is ideally a big idea that guides your entire wedding decor plan.
For instance, if you choose a Cinderella theme, the stage wedding decorations must reflect this by using elements associated with this theme such as oversized candelabras, crystals, blue mood lighting, and lots of colorful florals.
2. Select the best colors for the wedding stage decorations
Once you've settled on the theme, the color scheme comes next.
It's a good idea to have a uniform color scheme for the entire wedding but not necessarily.
The ideal plan would be to use colors that complement each other.
For instance, if you choose gold and white for your wedding decorations, you can include pink and purple for your florals, stationary, and bridal party costumes.
3. Choose the correct decor elements
The most popular go-to elements for wedding stage decorations in Kenya are vinyl branding and flowers.
However, you can also use greenery, foil, fabric, frames, arches, lanterns, and vases, amongst other elements, to create a romantic and elegant layered look.
4. Lighting
Lighting adds an elegant glow to your decor, especially if you use chandeliers, lampshades, festoon or fairy lights.
Additionally, lighting helps to create depth or to soften a space for that extra warmth and intimacy.
5. Fabric decor
Fabric often gets a bad rap, but it's a valuable decor element when used correctly.
You can use fabric to create ceiling drapes for a dramatic billowing effect or sheers for an ethereal look.
Wedding stage decorations: How to arrange them for maximum effect
1. Focus on balance and pattern
Since the stage is a crucial decor highlight, arrange the wedding stage decorations appealingly.
Focus on achieving balance and pattern by ensuring the decorations are not obstructive or untidy but visible from all angles and distances.
2. Get the experts
Hire a professional to guide the process, ensuring your wedding stage decorations turn out well.
The value of a professional is that they have the expertise to turn your ideas into reality.
They'll listen to you and advise on the type of venue, decor elements, design, and color scheme to best realize your vision.
5 awesome wedding stage decorations designs for 2023
Now that you know how to deliver your desired decor, here's our selection of five easy-to-execute wedding stage decorations designs for your consideration.
1. Modern
If you want a modern, elegant look, here's something to inspire you.
Note the chic white couch with lush padding, LED candles, soft white glowy light in the background, fabric drapes, and metal frames with colorful florals.
2. Florals
For some brides, flowers are their decor hallmark; if that's you, here's something to consider in 2023.
These wedding stage decorations stand out because of the floral arrangements on the arch and sides of the champagne-colored couch.
The candles spread out around the couch and between the florals help to add to its elegance.
3. Low budget
Good decor should be affordable, as is evident from this simple catchy design.
It comes with flat unraised whiteboards on the floor, a draped backdrop, and a wooden frame in front of it adorned with drapes and florals.
4. Color Splash
For color lovers, this design is truly inspiring.
What stands out about it is the backdrop curtain and colorful floral arches with hanging chandeliers.
Add to that unique couches and additional mood lighting, decor props on the sides to complete this color splash.
5. Elaborate decor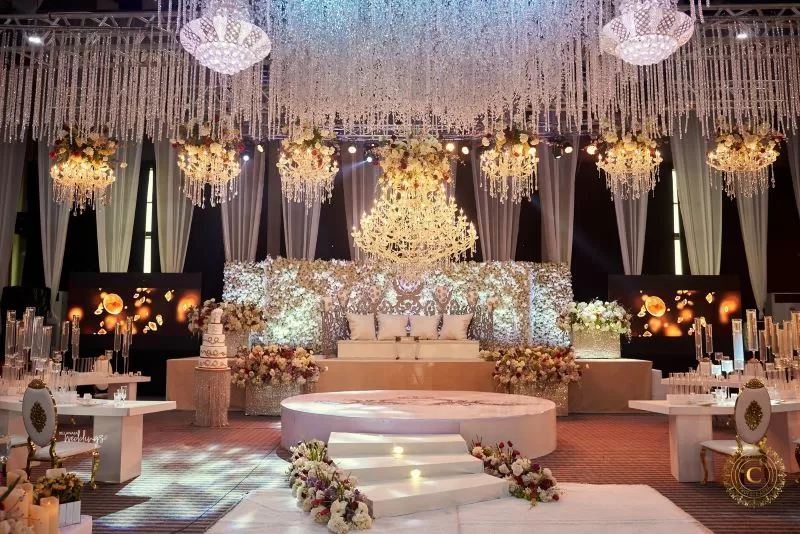 For those who like over-the-top decor, here's a design for you.
It has a nicely draped backdrop, suspended florals, vinyl branded round dance floor, raised stage, and lighting.
Frequently asked questions
1. How can I decorate my marriage stage?
You can decorate your wedding stage by choosing a suitable theme to guide your decor plan. Alternatively, you can select decorations that most appeal to you for instance, colorful fabrics, lighting and flowers then have them arranged in a balanced pattern visible from all angles.
2. How do I decorate my wedding for my small budget?
Consider using affordable decor elements like twigs, greenery, fabrics and fairy lights. Select your event furniture carefully by going for simple tables and chairs as long as they're clean and well kept. You can also make your own decor using pieces of wood, tin and empty bottles especially for centrepieces.
3. Where can I find a decorator for my wedding stage decorations in Kenya?
Contact us at Lucidity Africa Events, we're event decorators in Nairobi with the expertise to help you turn your dreams to reality. Our rates are affordable and we'll guide you on the theme, decor elements and application.
In essence…,
Wedding stage decorations are at the heart of your wedding decor plan.
They help to create the mood and set the tone for the entire event.
When creating your wedding stage decorations plan, have a theme, color scheme, perfect elements like lights and fabric, plus hire a professional to guide the process.
We're event planners in Kenya, and you can rely on us for event planning, decor, furniture, and tent hire.
To reach us, call/Whatsapp us at 0721771185 or email: joan@lucidityafrica.com, and we'll revert ASAP.