In the course of event planning, you get to know a little bit about almost everything.
Take for instance, this brief we got to decorate sections of the HUB mall for the Diwali 2020 festival.
We had always considered Diwali an Indian cultural festival with lots of firecrackers and dozens of neon-like colors and lights.
And, might we add, rather more appealing than Halloween or Oktoberfest.
But beyond that, we were totally clueless. Hence, in a bid to learn more, this is what we discovered…
What is Diwali?
Diwali is a celebration of the triumph of good over evil, light over darkness and wisdom over ignorance. Known as the festival of lights, it's one of their biggest and most important annual events. In India, it's a merriment and joyous union of people across religions, cultures and castes.
The meaning of Diwali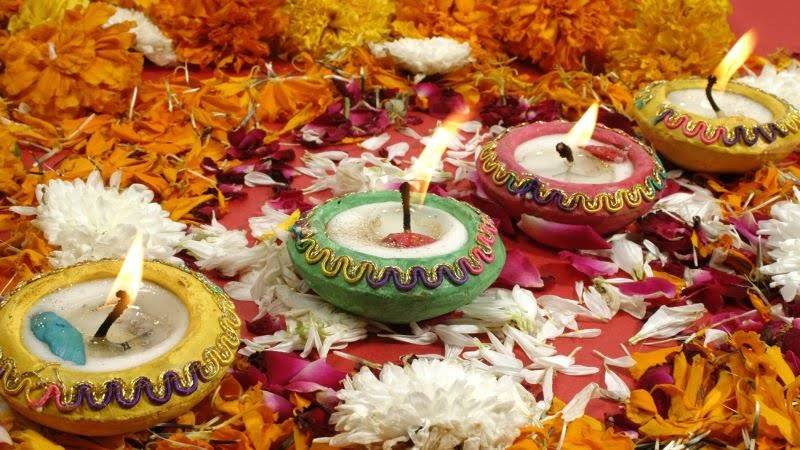 According to National Geographic, here's how different communities perceive and celebrate this incredible event.
Jainists: They honor it as the day of Lord Mahavira's nirvana (spiritual awakening). Mahavira is the founder of Jainism and the lighting of diyas during the festival is an honor to him. It's also a symbol of the triumph of knowledge over ignorance.
Sikhs: To them Diwali is a story about the struggle for freedom. A king tried to make Guru Nanak, the founder of Sikhism, eat meat while the Guru was fasting but he declined. Soon, there was a protest outside the palace as crowds gathered around waving lanterns, candles and torches to demand his release. To avoid the anguish that could result in strife, the king gave in and Guru Nanak was freed.
North India: For those in this region, their link to Diwali is the legend of Lord Rama, who was deprived of his kingdom and sent into exile for 14 years. Hence, Diwali is a celebration of his defeat of Ravana the evil spirit and return to his kingdom.
South India: Here Diwali is as a victory of Lord Krishna over the demon Naraka. During his death, Naraka requested that people celebrate the victory of good over evil with new clothes, bursting crackers, exchange gifts, enjoy parties and spruce up their homes.
Though Buddhists don't typically celebrate Diwali, Vajrayana Buddhists observe it as the festival of Swanti as do Hindus in the Newar region of Nepal.
Both Swanti and Tihar are Nepalese variations of the Diwali festival.
Five days of Diwali
The festival takes place over five days, with the third day being the main event day. In our case, Saturday November 14th 2020 was the big day.
And here's how the five days went down.
1. Dhanteras: (Day of fortune)
2. Naraka: Chaturdashi (Day of knowledge)
3. Diwali: (Day of light)
4. Annakut: (New Year)
5. Bhai Duj: (Day of love between siblings)
On Diwali night, most Hindus offer prayers to Lakshmi, the goddess of wealth, and Ganesh, the god of good fortune and wisdom, for the coming year.
As the religious ceremony comes to a close, sweetmeat offerings are placed in front of the deities. While small clay lamps known as diyas are arranged inside homes and outdoors, too.
The aim is to attract Lakshmi's attention and guide her towards these twinkling lamps to bestow blessings and prosperity for the year ahead.
Setting the date
First, the main event date falls on the new moon day of the Hindu month of Kartika. The Hindu calendar has twelve lunar months, and Kartika is the eighth.
Each month is divided into two fortnights called 'shukla paksha' (when the moon is waxing) and 'krishna paksha' (when the moon is waning).
Although traditions disagree as to which paksha goes first, it generally goes that Diwali itself falls on the night of the new moon.
The dates of Diwali according to the Gregorian calendar change from year to year, but the festival usually falls in late October or early November.
How to decorate for Diwali
As a lead up to the festival, time is spent redecorating homes with lights and rangolis (these are elaborate patterns made out of materials including rice, colored sand and flowers). Other activities include dinner parties, food festivals and craft fairs.
Decorations for Diwali involve a massive display of color and lights.
Traditionally, a vibrancy of shimmering colors is created using wall painting, craft paper and murals.
This year due to the erratic November rainy weather, we opted to use colorful ribbons to line the mall's walkways,fairy lights and minimal drapes. Colorful Chinese lanterns added to the vibrancy and pop of color.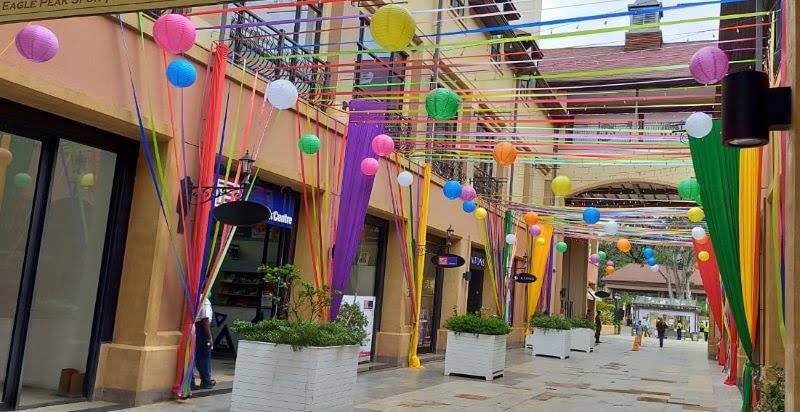 We were also to set up a wall rangoli which was daunting since the norm is to do them on the floor. We couldn't also do away with it because it's really not Diwali without rangoli.
Anyway, after a couple of misses, we got it right and chose to use assorted paints to color it.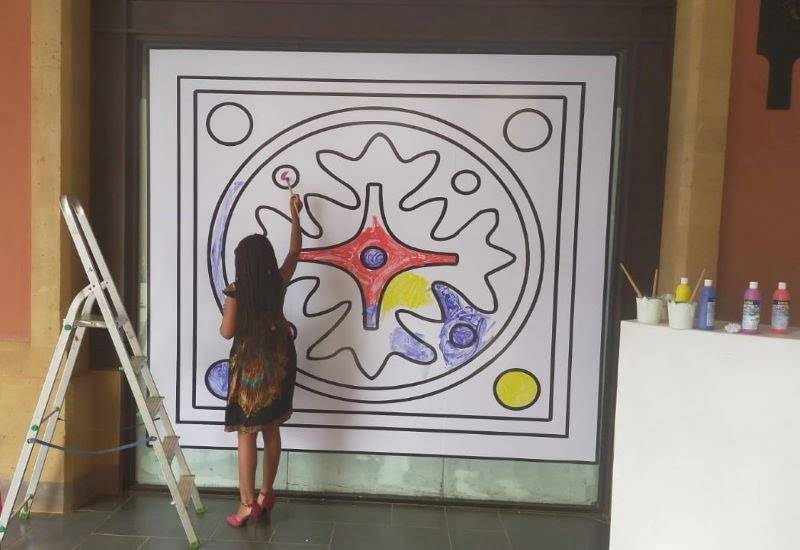 Next, we had to create a mehndi area where shoppers and mall visitors would get these traditional motifs drawn on their hands.
Traditional henna motifs include flowers, stars, water drops, spirals, and leaves. Remember our DIY re-purposed caramel poufs? They fit amazingly well into this space.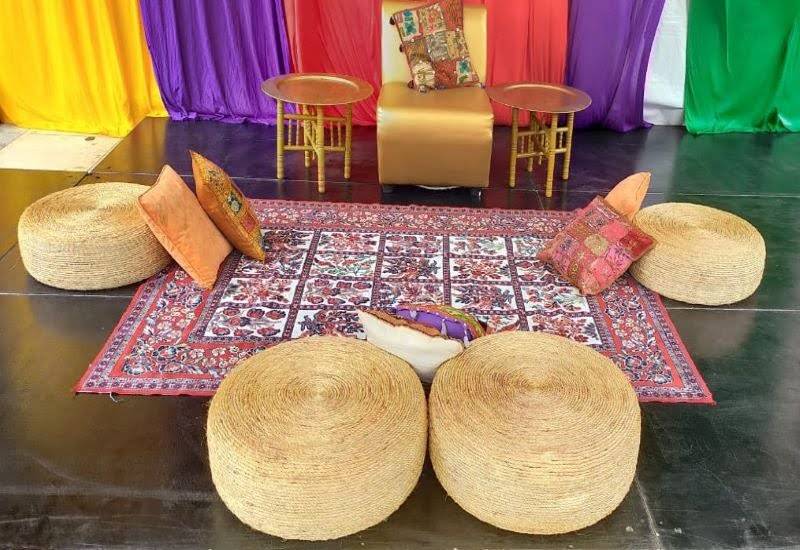 Another interesting prop we discovered was the diya, though not quite appropriate for the mall décor.
Diyas are quite significant in Hinduism; they symbolize knowledge, enlightenment, and one's submission to a higher power.
Since we weren't sure of their availability, we learned that it's accepted to repurpose materials such as fruit rinds, flour dough, hollow shells, stones and just about anything that's natural and could hold a candle.
More Diwali decor props
Here's a list of some Diwali décor props and accessories to consider next time you're decorating.
1. Glass bottle lights
You can either put fairy or string lights in an empty glass bottle or decorate it with glitter, then fill it with lights to illuminate a space.
2. Floating candles
For this fill a basin or glass bowl with water, sprinkle beans, flower petals, beads and glitter then place the floating candles for a magnificent effect.
3. Torans
According to Wikipedia, Toran, 'Toranam, also known as Bandanwal, is a decorative door hanging in Hinduism.
It's usually decorated with marigolds and mango leaves, or a string that is tied on the door with the flower on it as a part of traditional Hindu culture on the occasion of festivals and weddings.
4. Henna decorated candles
Henna decorated candles are classic. How do you do this?
When the henna dries, apply a single coat of PVC glue on it with some water. Once the single layer of the glue dries, then apply the second as well to make sure the design sticks.
Frequently asked questions
1. Is Diwali good or bad?
Diwali is a major annual Indian holiday.
It holds different meanings for the various religions in India like Jainists, Sikhs, Hindus and more.
But what's evident is that they all agree that Diwali, also know as the Festival of Lights is a joyous celebration.
It's a triumph of good over evil, light over darkness and wisdom over ignorance.
2. What are some special sayings on Diwali?
Diwali is a celebration of joy and victory. A special saying on Diwali goes like;
May these fireworks burn away all our troubles, problems and sorrows, and may these light up our life with happiness, joy, and peace this wonderful Diwali.
Let's celebrate the festival in the true sense by spreading joy and light up the world of others.
Have a happy, safe, and blessed Diwali!
If you'd like to keep it simple, here are some examples to consider.
May your Diwali be fun and full of good fortune.
Wishing you love and laughter this Diwali.
Sending love and light this Diwali and many more.
May all your dreams come true this Diwali.
Have a happy prosperous Diwali and new year.
3. What activities do you do on Diwali?
Being a joyous celebration, here are some of the fun activities to organize for your family and friends.
Rangoli sketching and painting
Fun crafts activities like candle, jewelry and lantern making
Lots of storytelling
Quiz contests
Contact us
Interestingly, firecrackers which are a Diwali staple are continually being frowned upon for their environmental degradation and pollution.
More eco-friendly ways that include recycling and re-purposing of materials are being incorporated yearly.
Are we glad we did? Absolutely, yes! Diwali will definitely be a major feature in our annual calendar.
For event planning, event decor and hire of tents, tables and chairs, contact us.